Services & Solutions that Empower Decision Making
Customized Market Research Services Designed for Success
Services Designed for Success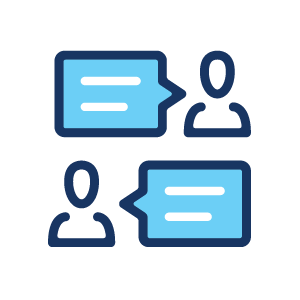 Consulting
Successfully conquering niche B2B markets requires deep market expertise, highly targeted audiences and an experienced team of marketers and researchers that understand goals. Leverage our market research services to identify audience behaviors, uncover new trends, dominate the competition, discover sales opportunities or create a content marketing roadmap.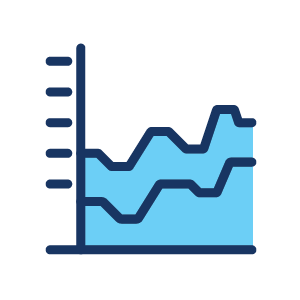 Brand Perception
Understanding how your brand is perceived gives you the capacity to set and achieve your goals. Know where you stand in regards to the competition and develop on point marketing strategies that effectively position your brand while connecting with customers and prospects in exceptionally relevant channels.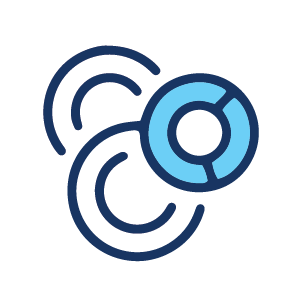 MARKET INTELLIGENCE
Being at the forefront of key trends and market challenges is a competitive advantage. Realize the benefits of thought leadership as our topic experts overlay their insights with research data to provide you with intelligence and go to market strategies that position your brand ahead of the competition.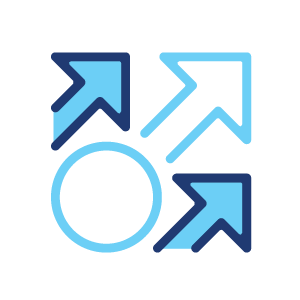 Product Launch Insights
Flawed product launches translate to lost sales, wasted R&D investments and marketing campaigns that miss the mark. Understand buyers needs throughout the product life cycle and uncover opportunities, identify key product features, measure satisfaction and develop a blueprint for successful marketing.
More Than Just a Research Firm
Endeavor Business Intelligence as part of Endeavor Business Media offers a full portfolio of marketing solutions & services that provide marketers opportunities to engage and educate – generating awareness, creating marketing pipelines and delivering high quality leads for their organizations. Visit Endeavor Business Media and Learn More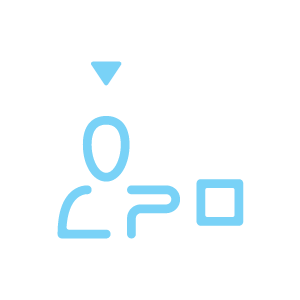 Content Marketing & Content Creation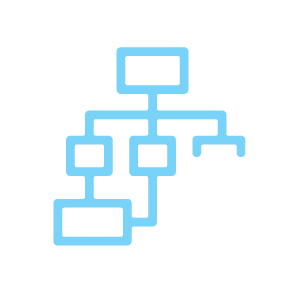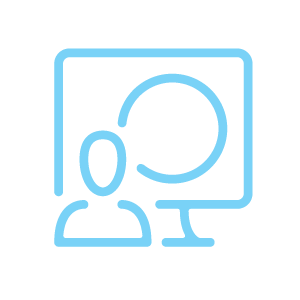 Video & Visual Experiences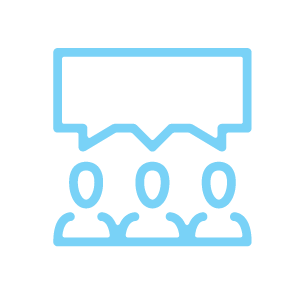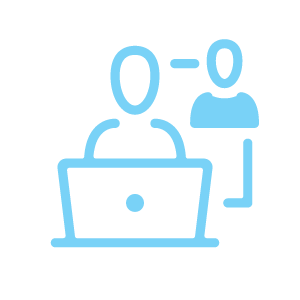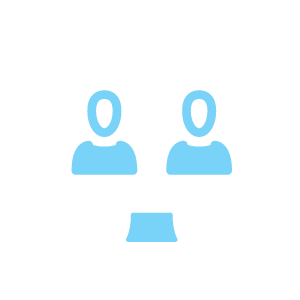 In Person & VIRTUAL EVENTS
Connect with us to build your research and content marketing strategy.
Connect with our team to discuss your needs.
Content Marketing Powered by Research Insights
Take an insights-based approach to content creation and gain deeper understanding of audience challenges or utilize research intelligence as high level content asset.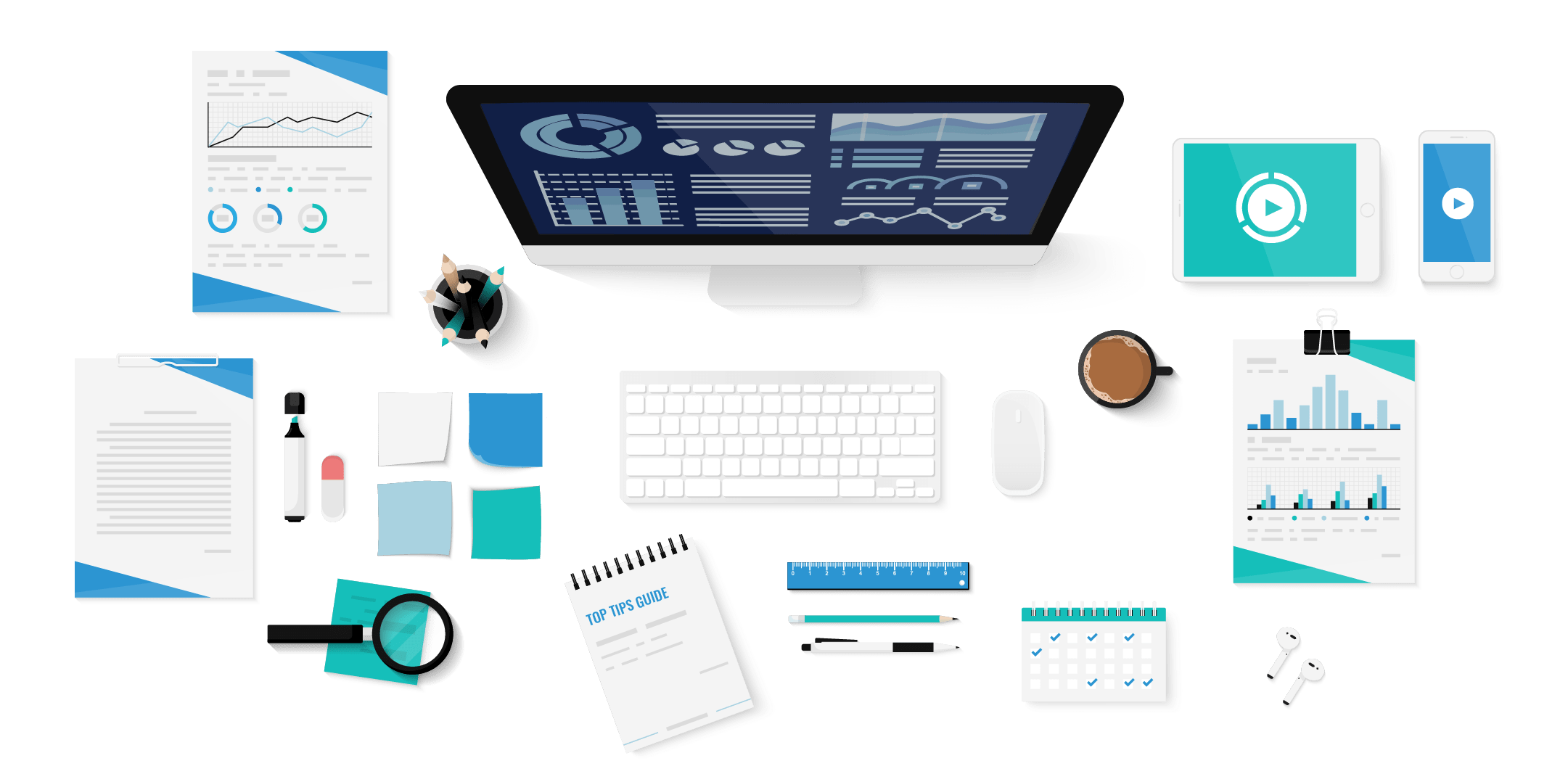 Research
---
for content marketing insights.
Infographics
---
for telling the story.
Top Tips Guide
---
to address the challenges.
Webinars
---
to establish thought leadership.
Explainer Video
---
simplifying complex ideas
White Papers
---
to guide decision making.
Reports & Analysis
---
for reviewing and optimizing.
State of the Market
Thought Leadership Content Program
Persona Intelligence
Insight into the Purchasing Process 
Conversational Analytics
Gain Competitive Advantage
Virtual In-Depth Interviews
Qualitative Insights for Charting New Paths
Brand Perception
Develop On Point Messaging
Business Intelligence Report
Commercial Vehicle Market Intelligence
Virtual Focus Groups
Examine the Why's of Decision Making
Industry Insights
Market & Trend Intelligence
Persona Research
Manufacturing Workforce | Gen Z and HR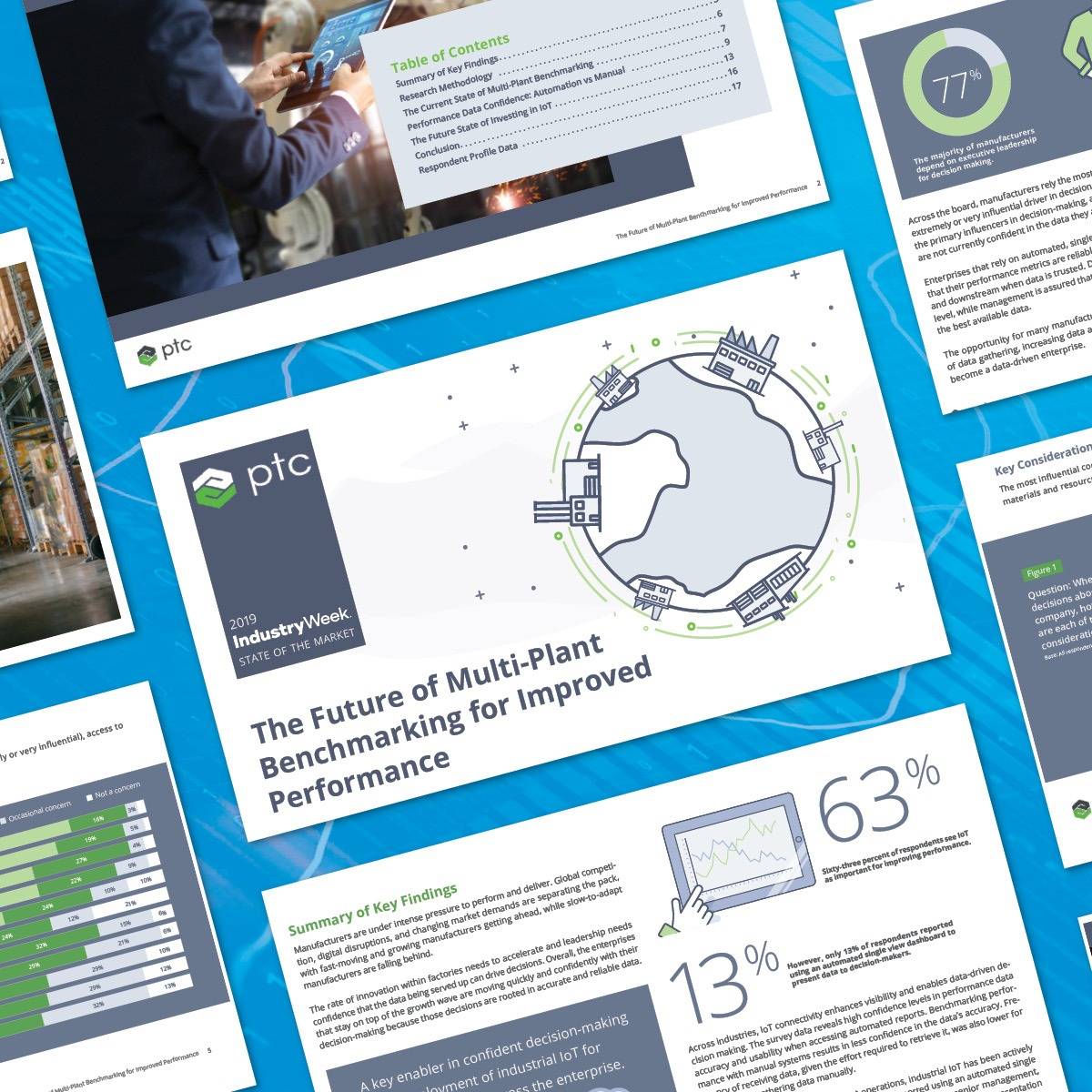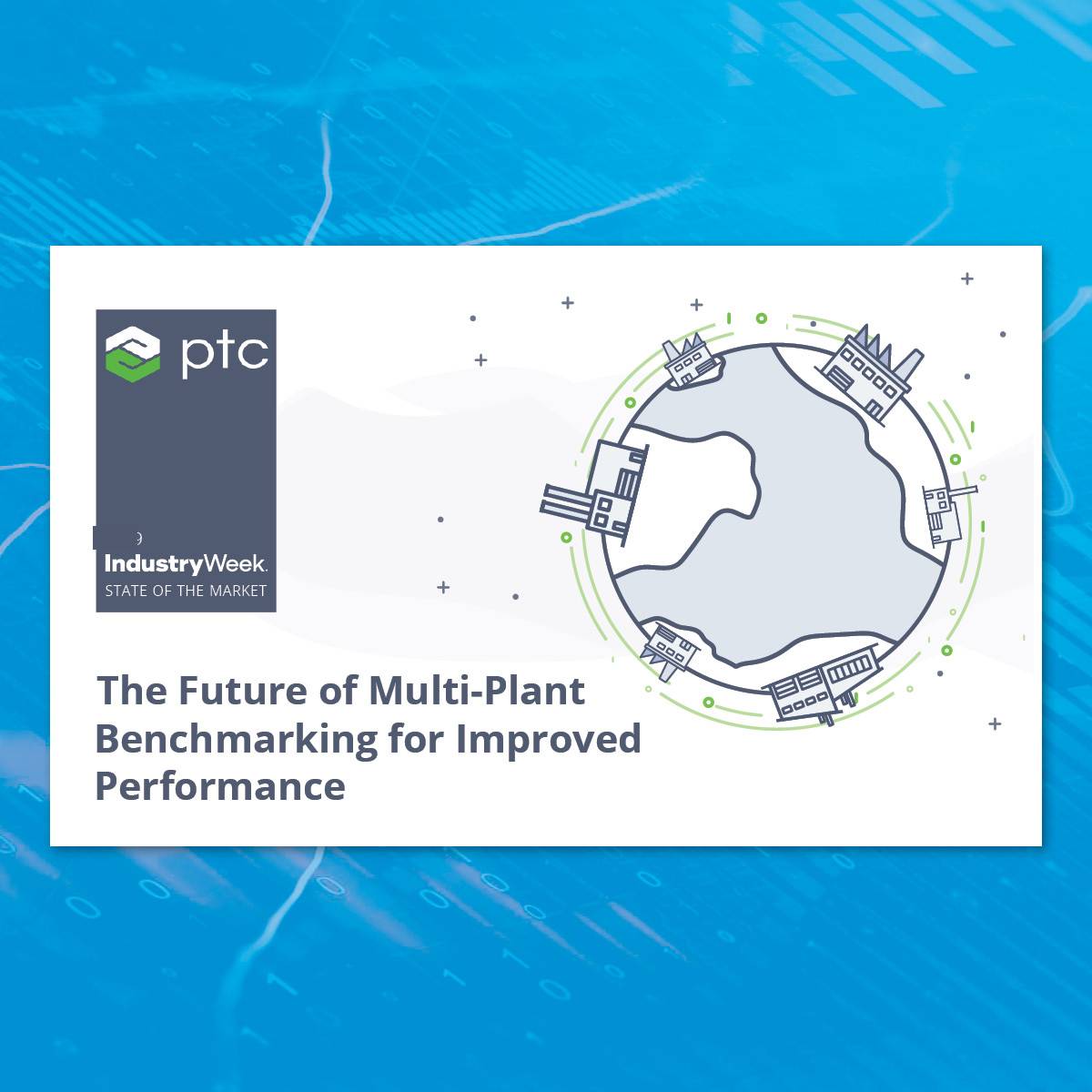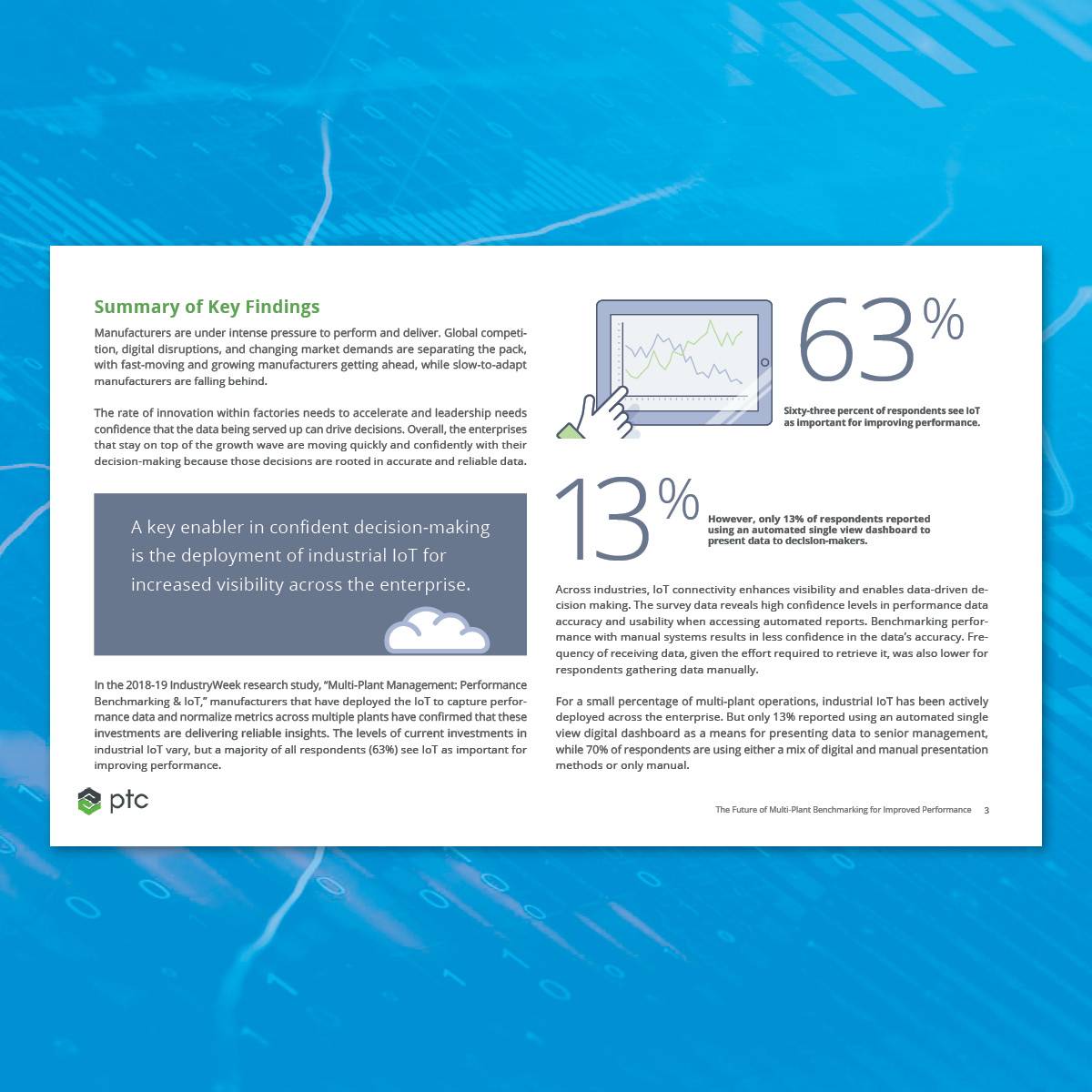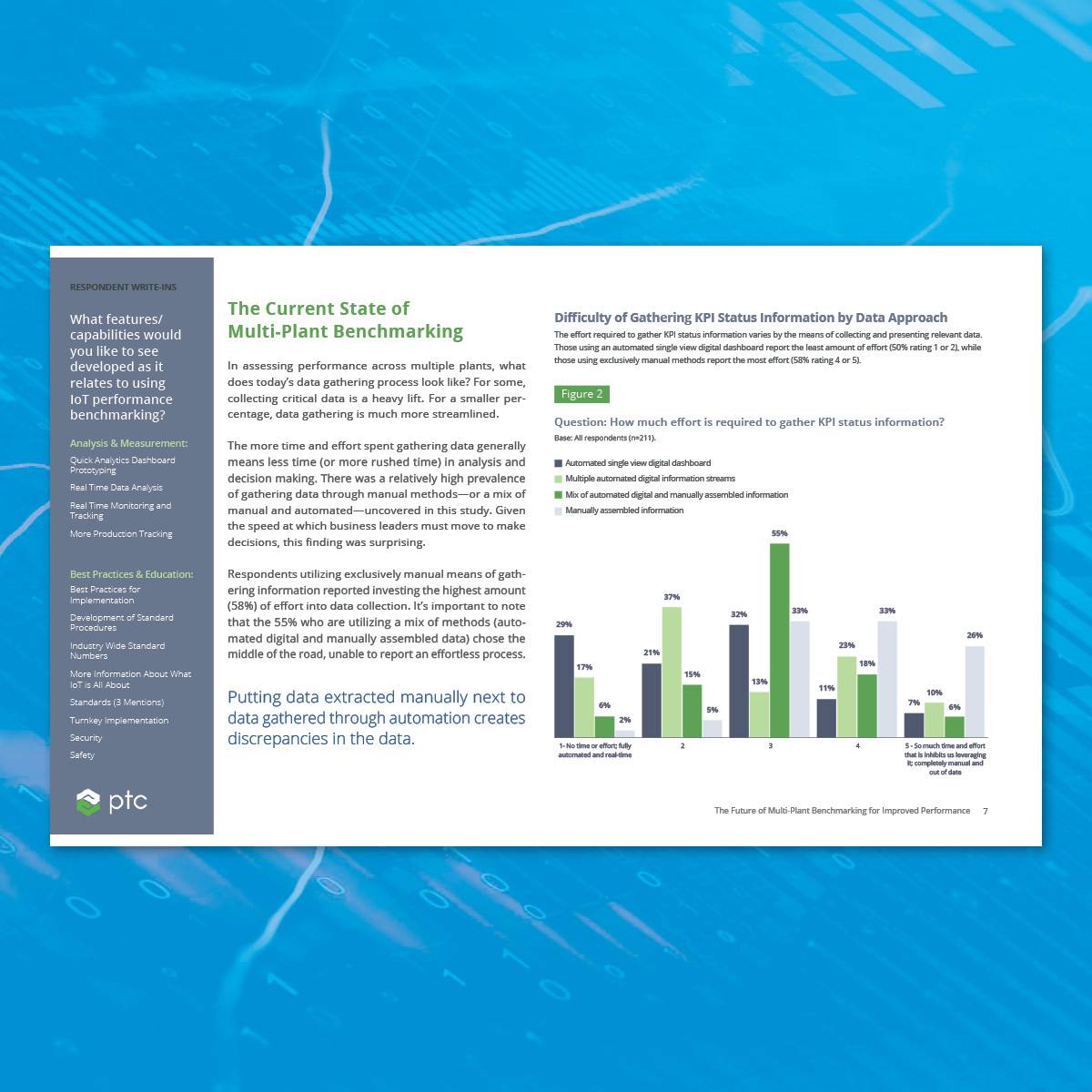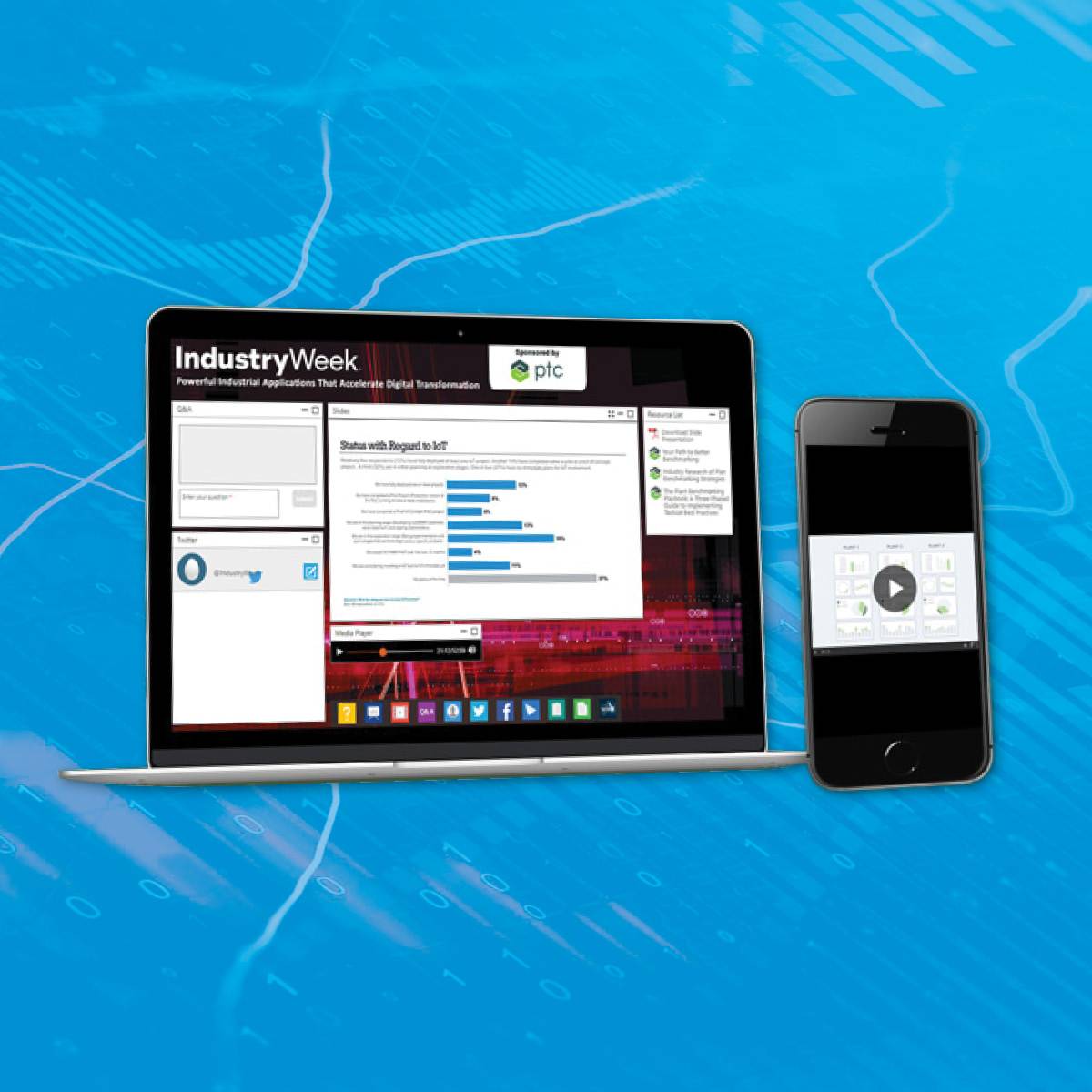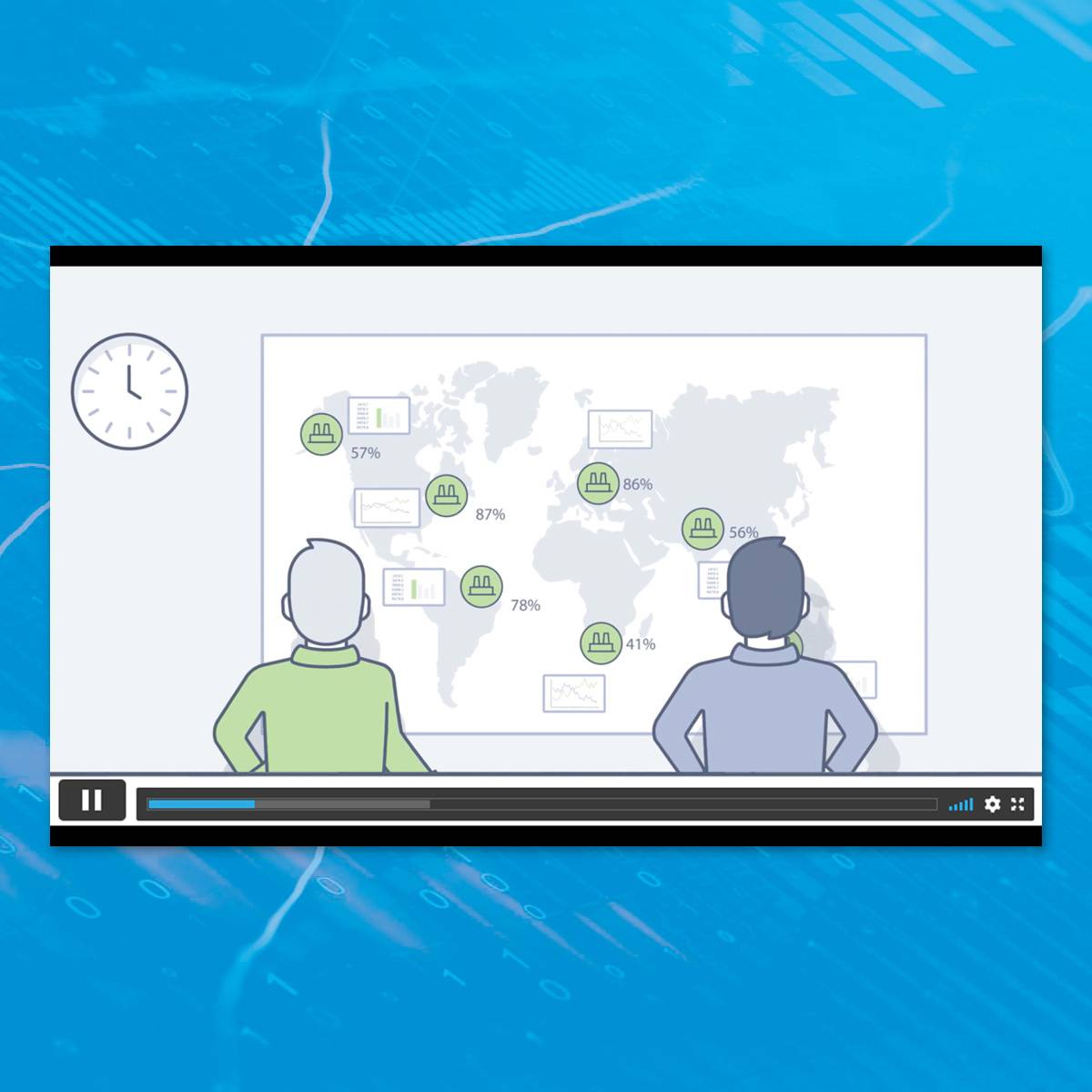 StateoftheMarketResearch2
StateoftheMarketResearch3
StateoftheMarketResearch4
StateoftheMarketResearch5
StateoftheMarketResearch6






State of the Market
Thought leadership Content Program
Position your company at the forefront of hot-button topics. Use market-facing research that will help your target audience understand the forces at play and gain insights for smart decision-making. Stay competitive by providing your targets with insightful solutions for their most complex challenges.
Using State of the Market insights to develop thought leadership and high-quality lead generation by developing an explainer video, insights report and webinar.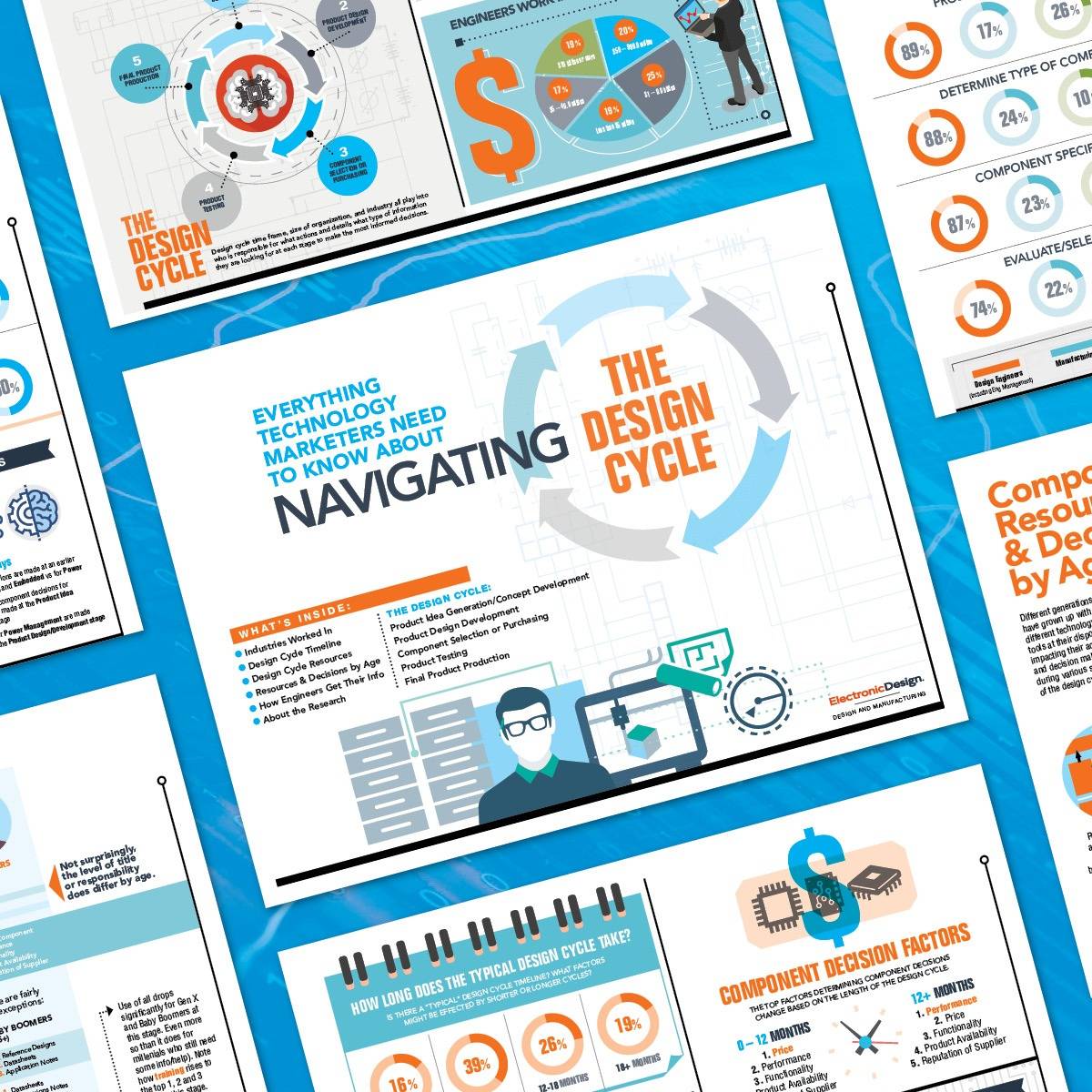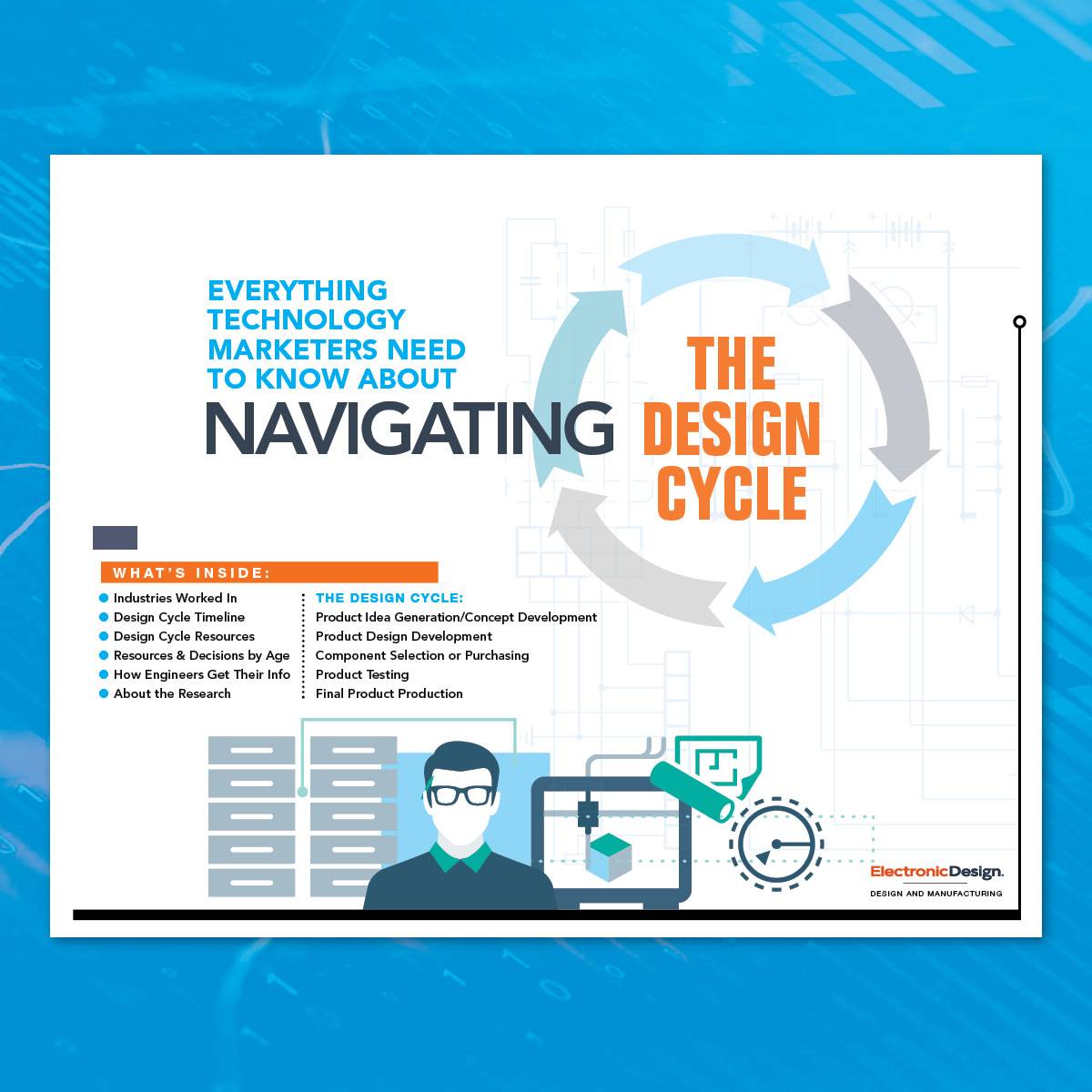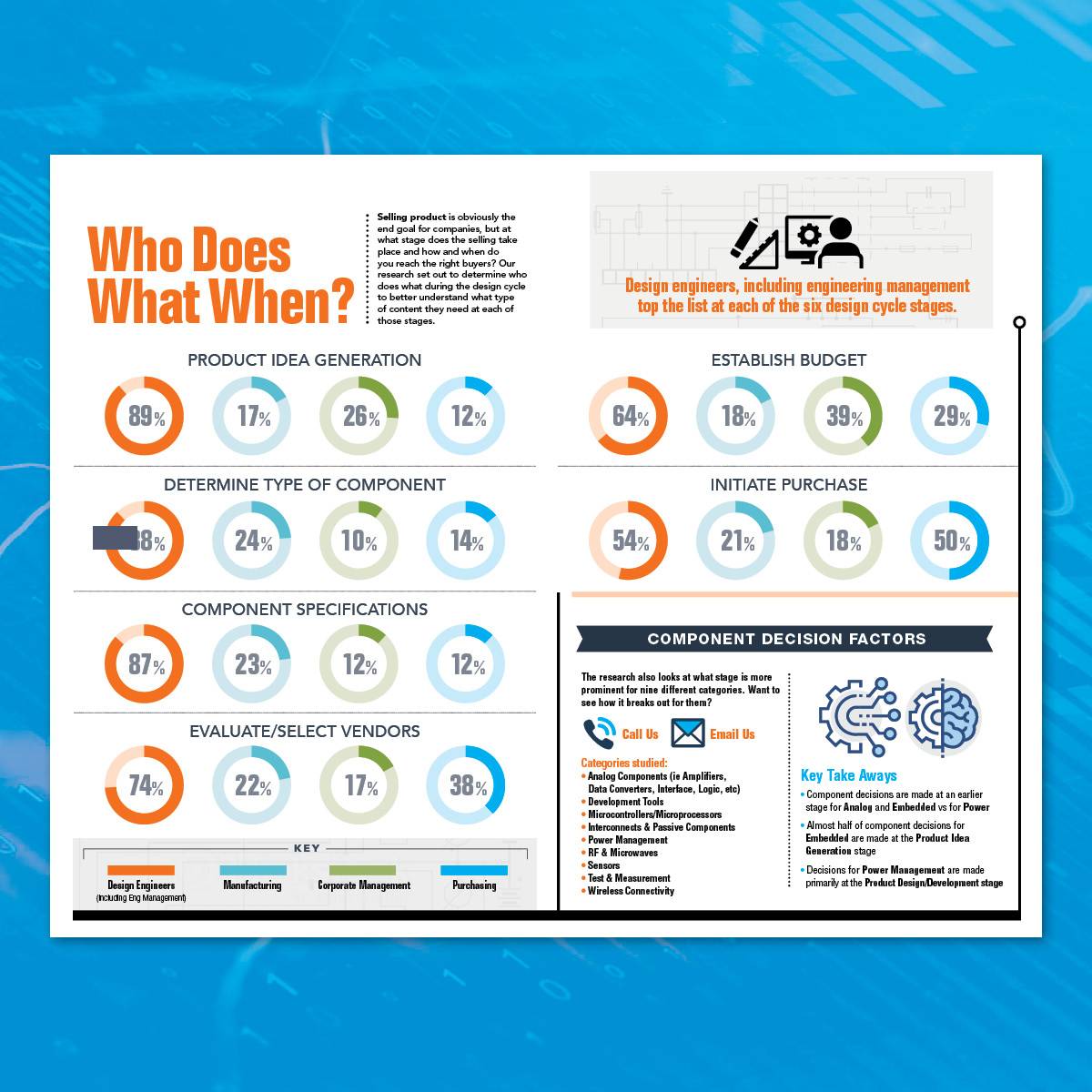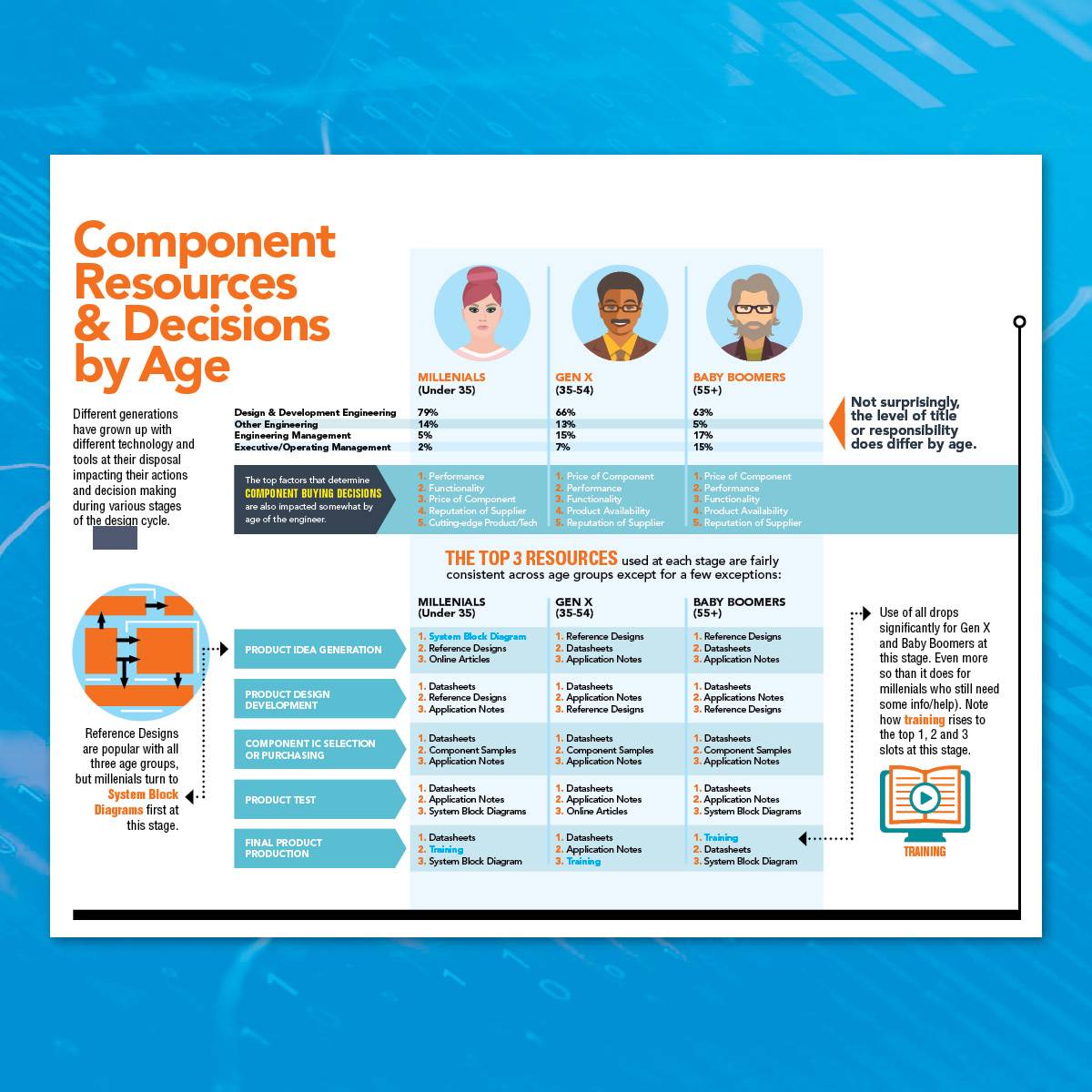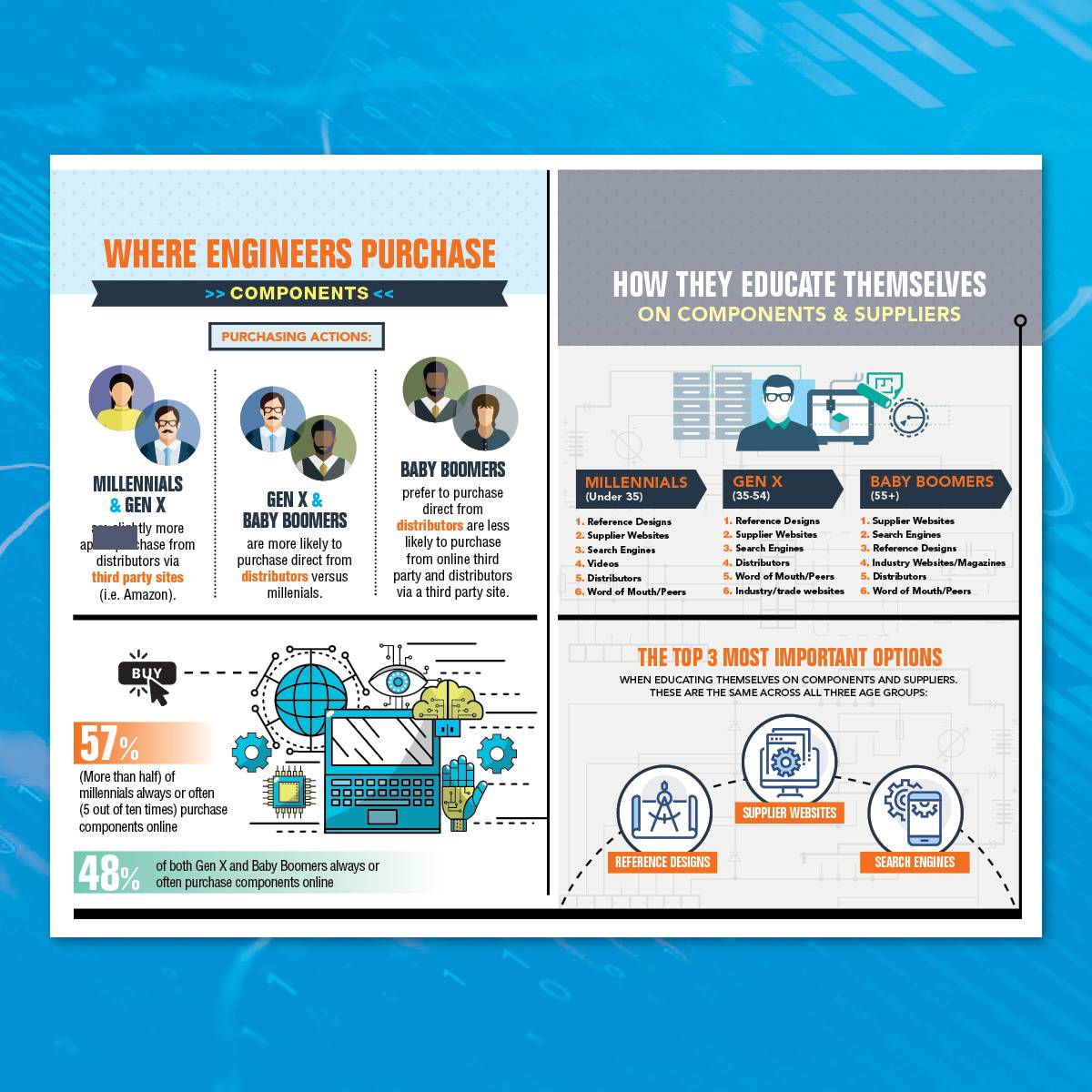 Persona Intelligence
INSIGHT INTO THE PURCHASING PROCESS
A careful analysis of the engineering design cycle and knowing who does what, when, and with what input, can help a company prepare the most impactful materials. Reach decision makers at the right place, at the right time, with the right information.
Everything Technology Marketers Need to Know uncovered a deeper understanding of:
Design Cycle Timeline
Design Cycle Resources
Resources & Decision by Age
How Engineers Get Their Info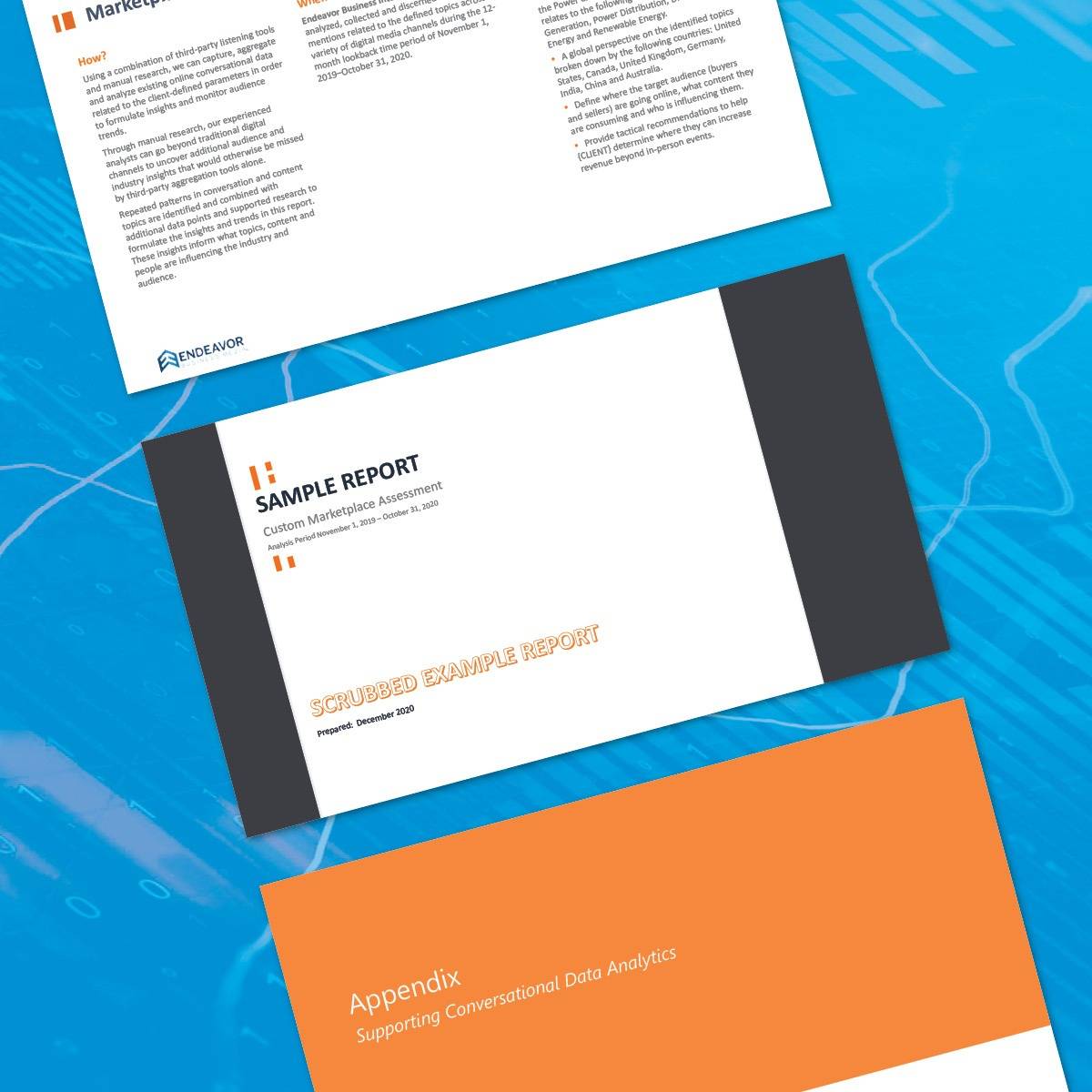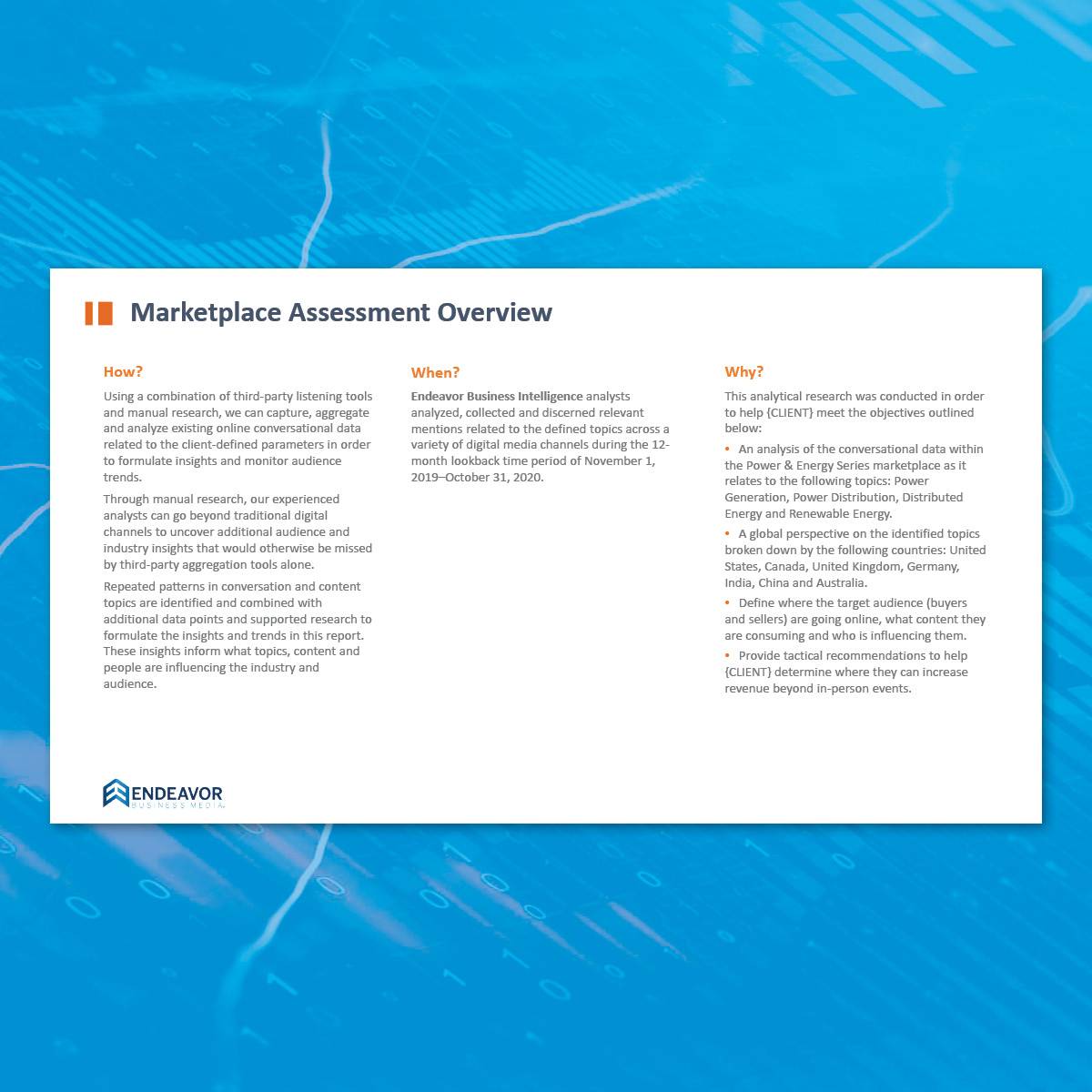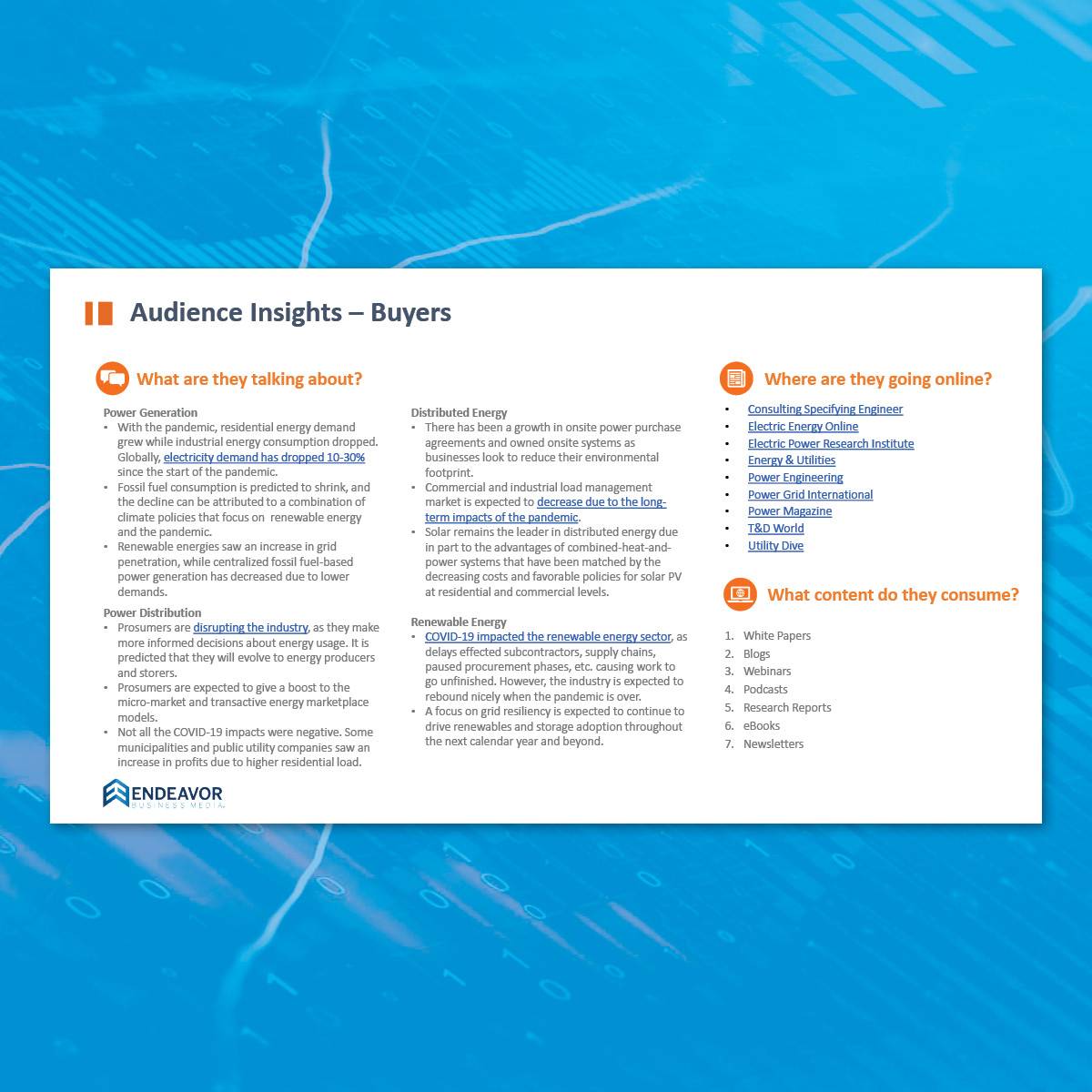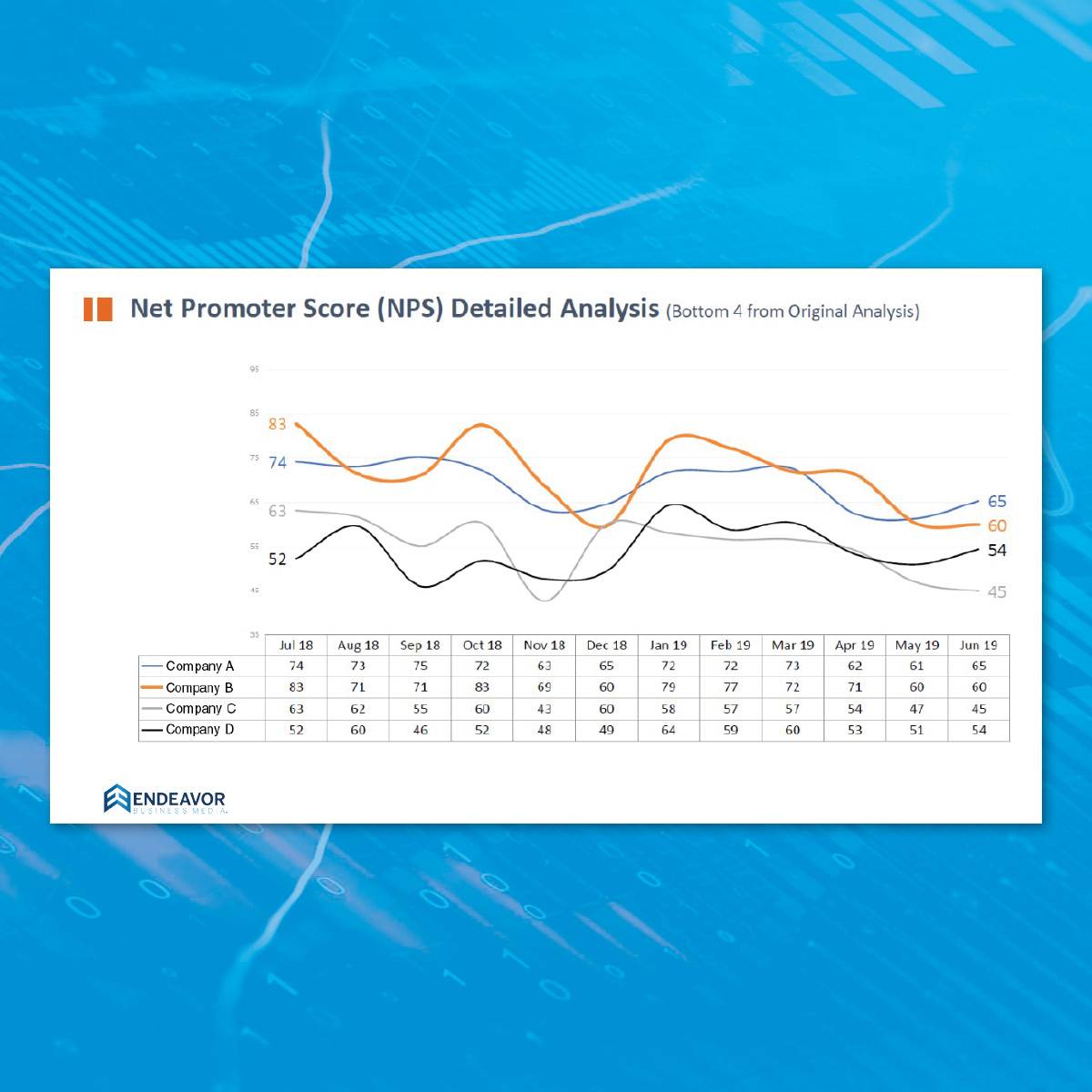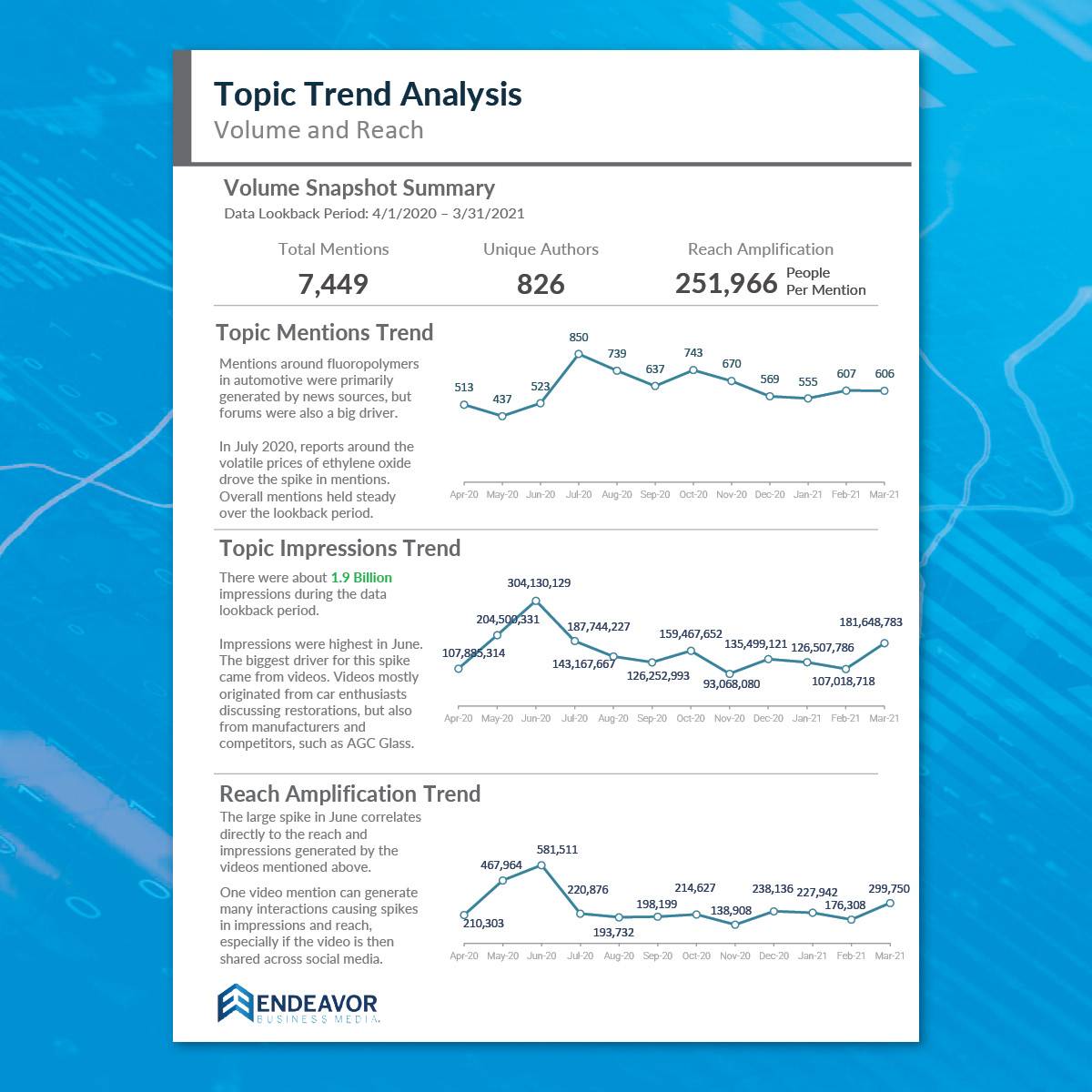 Conversational Analytics
Gain a Competitive advantage
Conversational Analytics enables businesses and organizations to understand the marketplace and increase their competitive advantage by transforming millions of social data points into benchmarked insights about any brand, product, feature, and trend consumers talk about.
Voice of the Customer
Brand Benchmarking Scorecards
Custom Marketplace Analysis (CMA)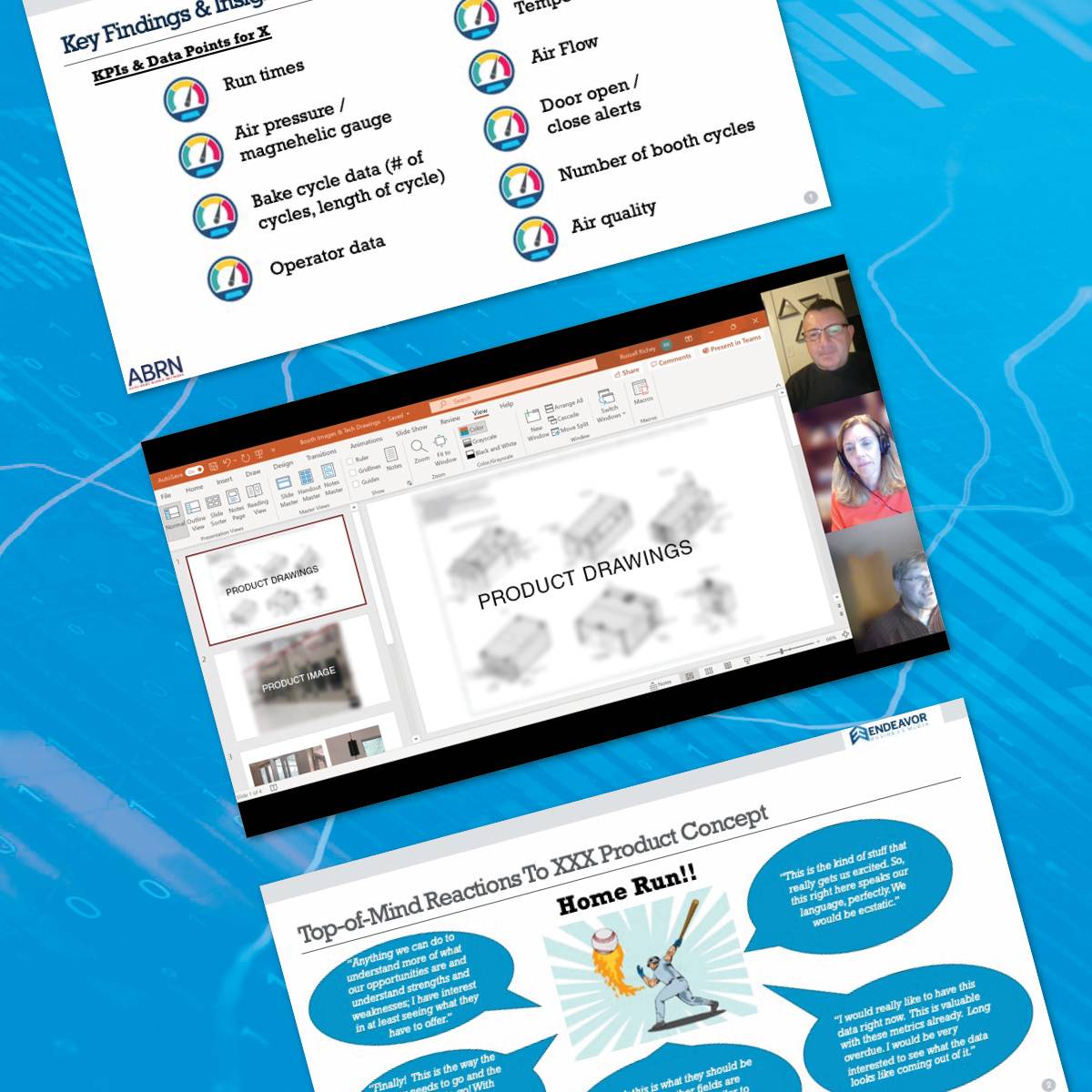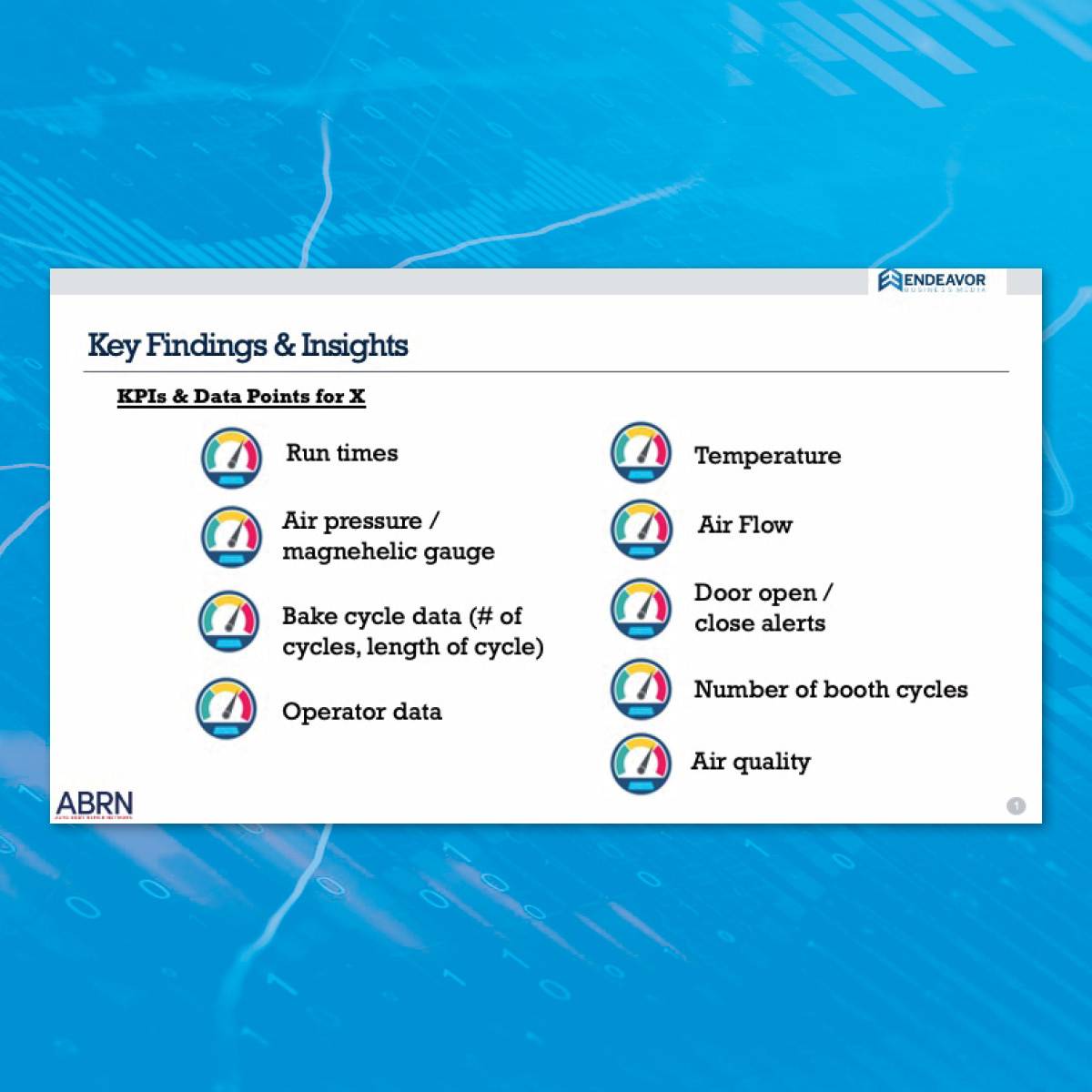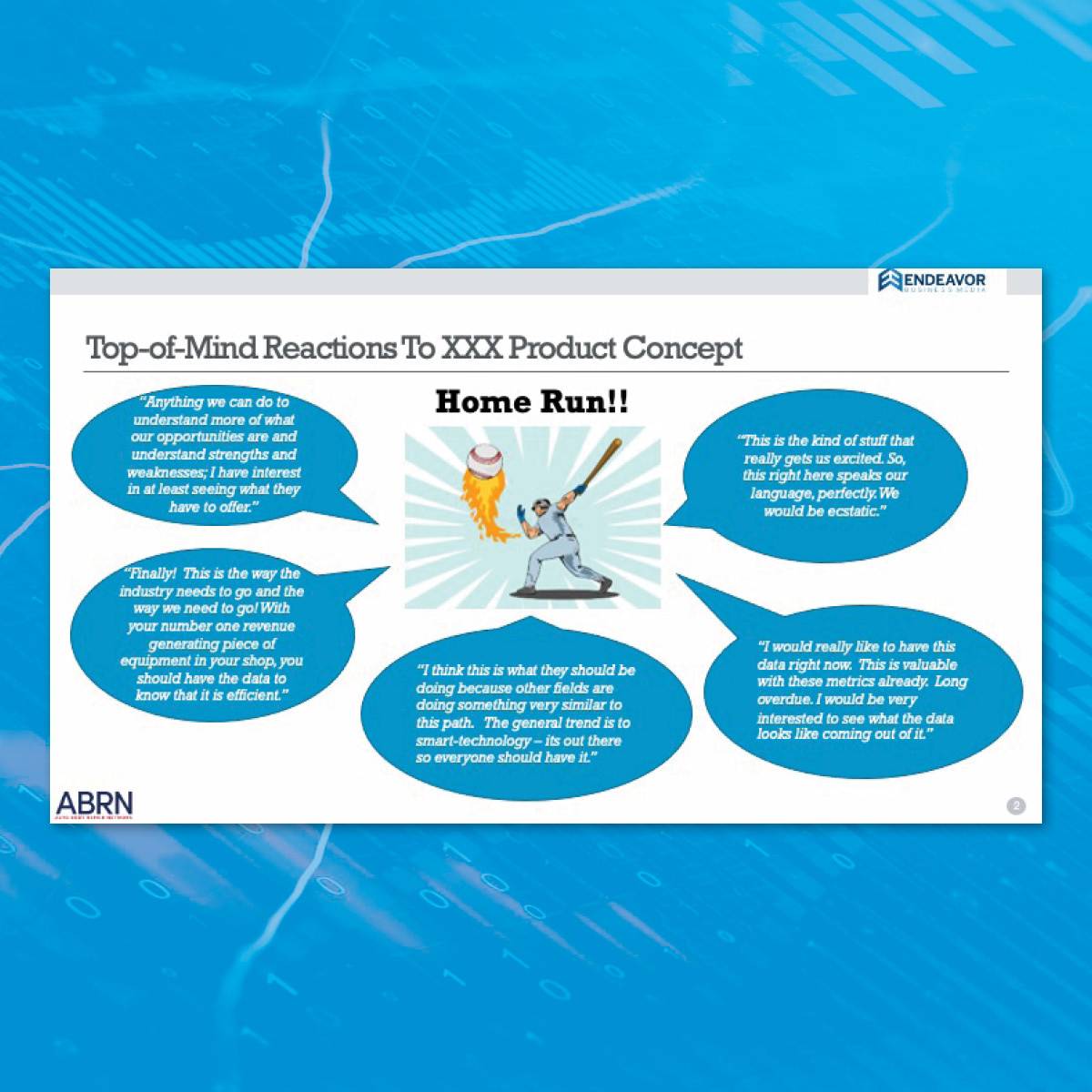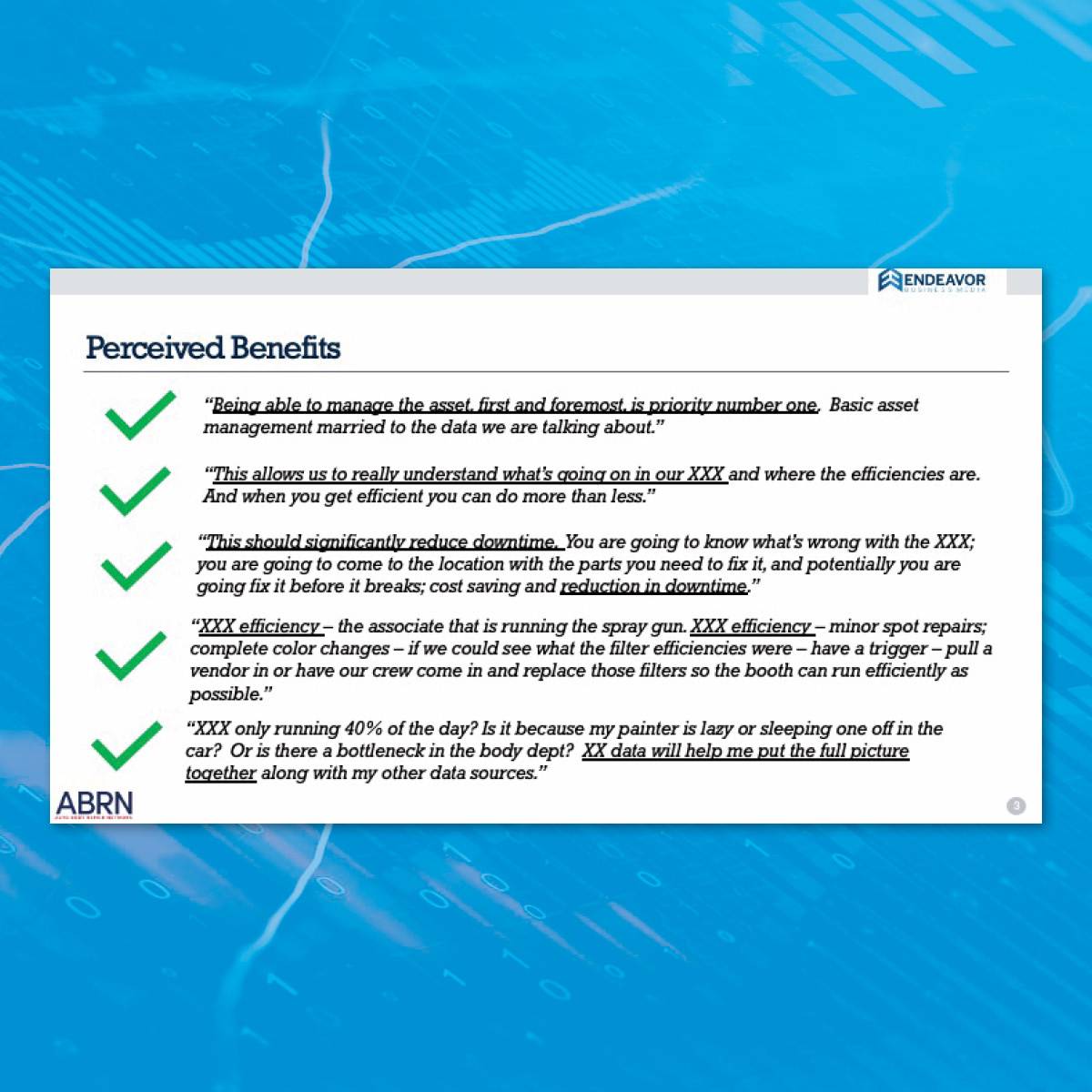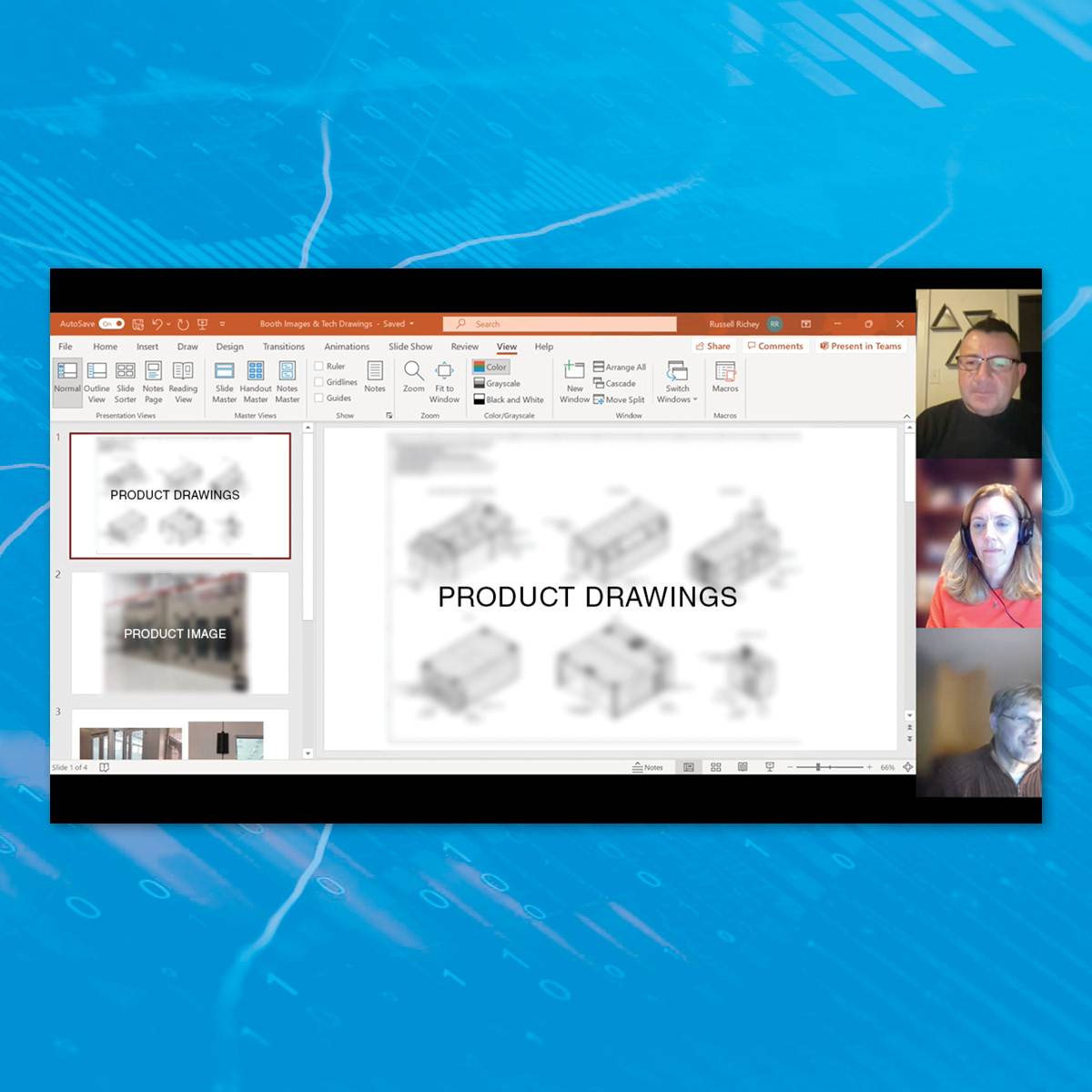 Virtual In-Depth Interviews
Qualitative Insights for Charting New paths
In-depth Interviews (IDIs) allow for rich, deep-dive, qualitative conversations with hard-to-reach professional and segments. Led by a trained qualitative moderator, in-depth interviews deliver the client detailed insights into the wants, needs and experiences of the customer or market.
Use IDIs for new product development, brand perception studies, attitudes towards industry trends, competitor evaluation, marketing messaging ideation and testing.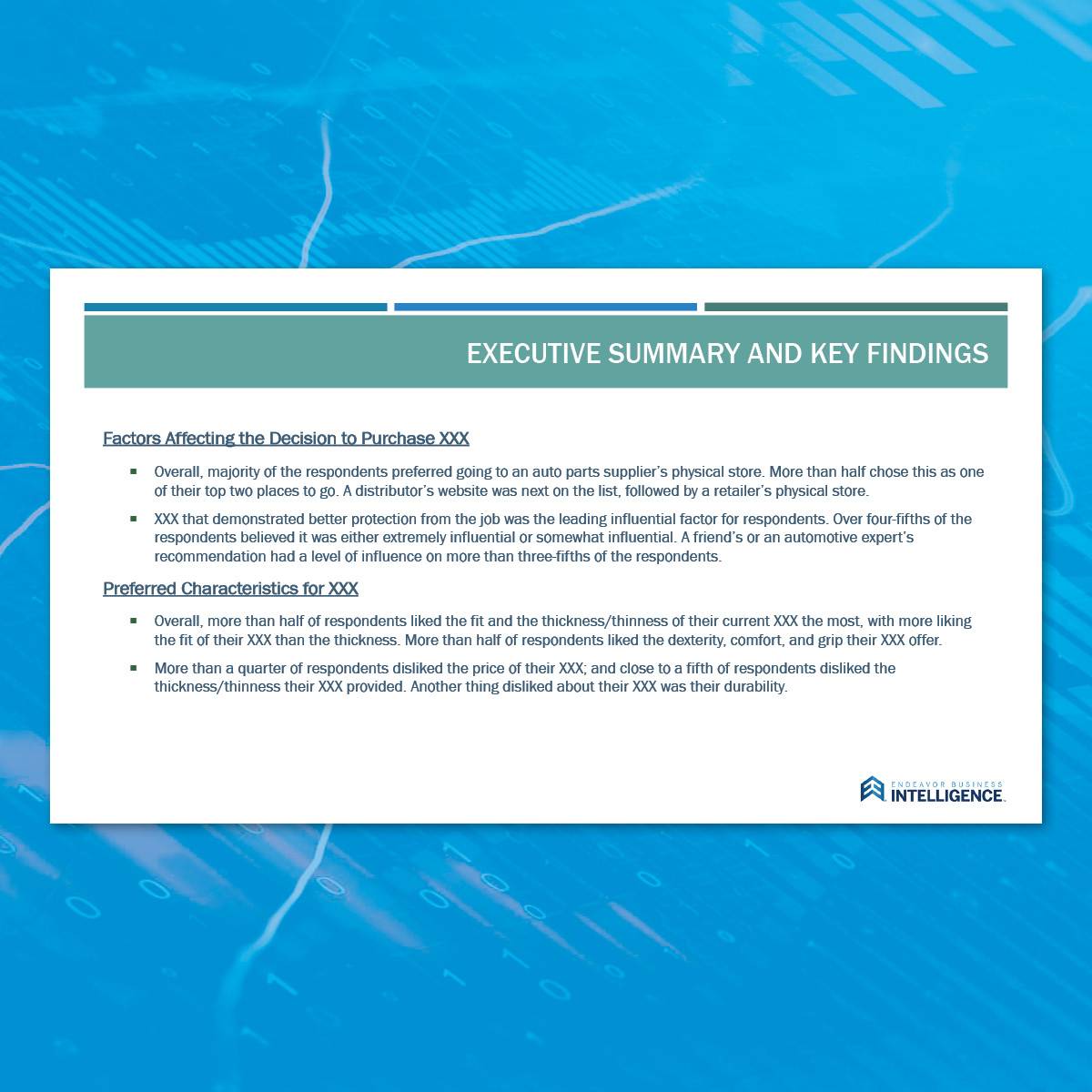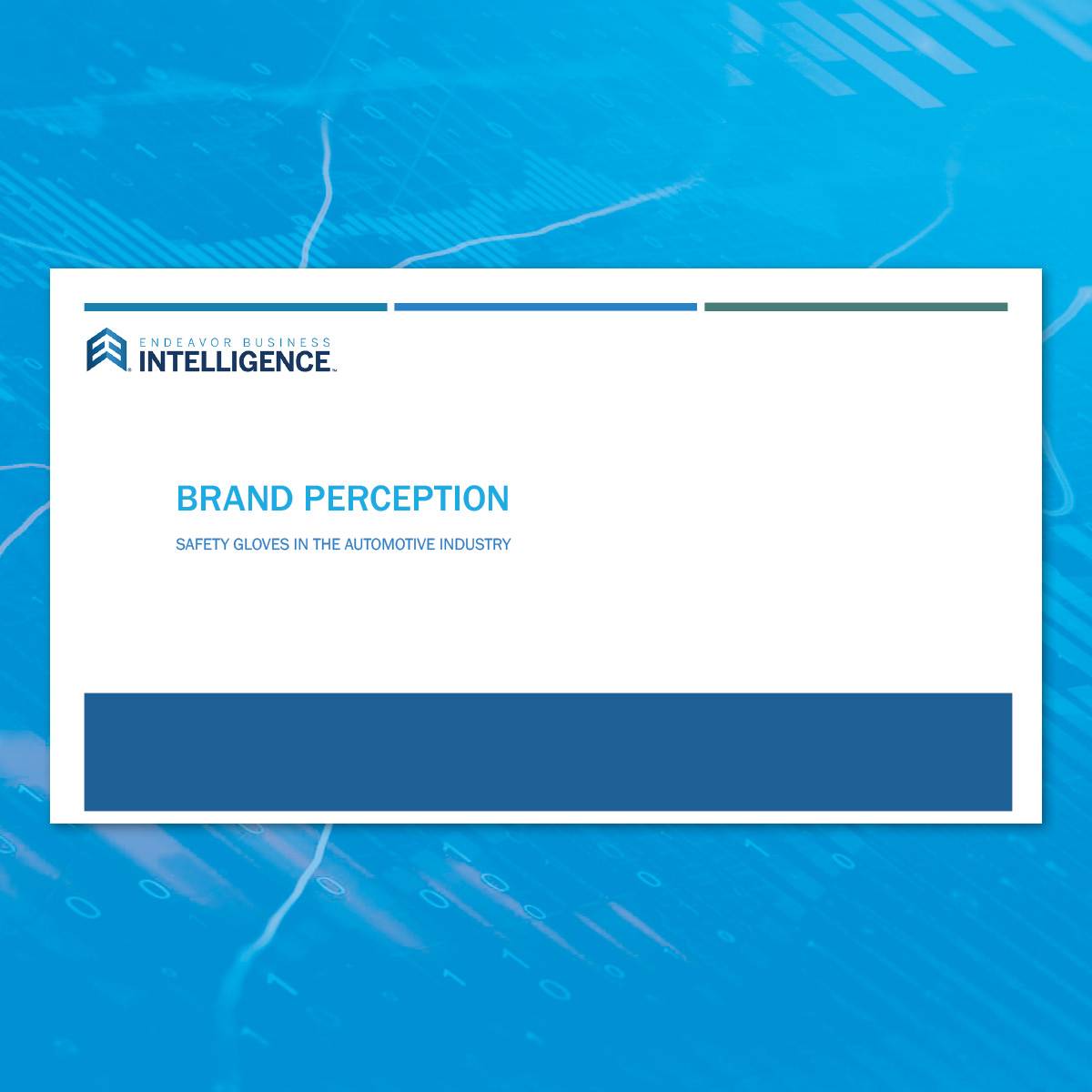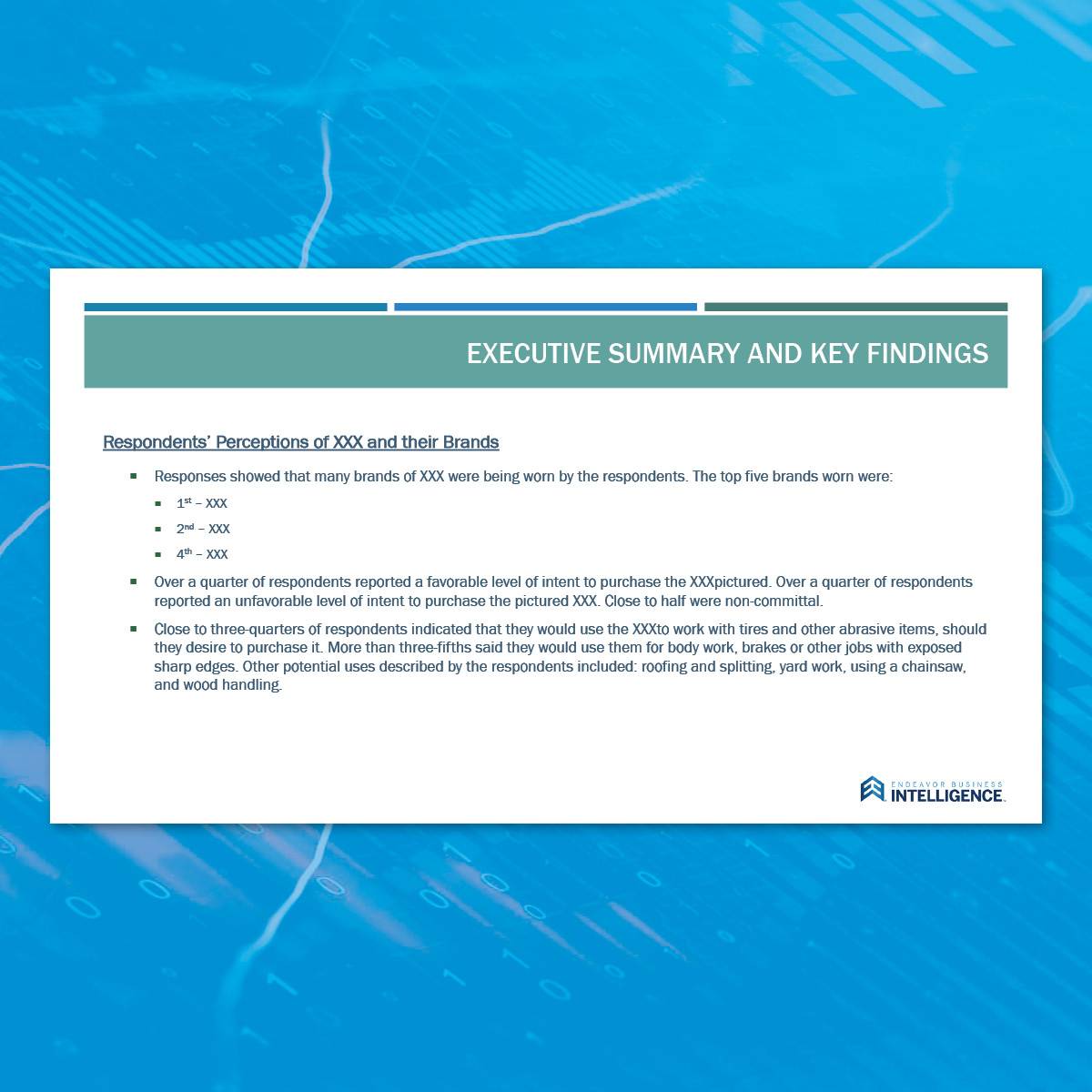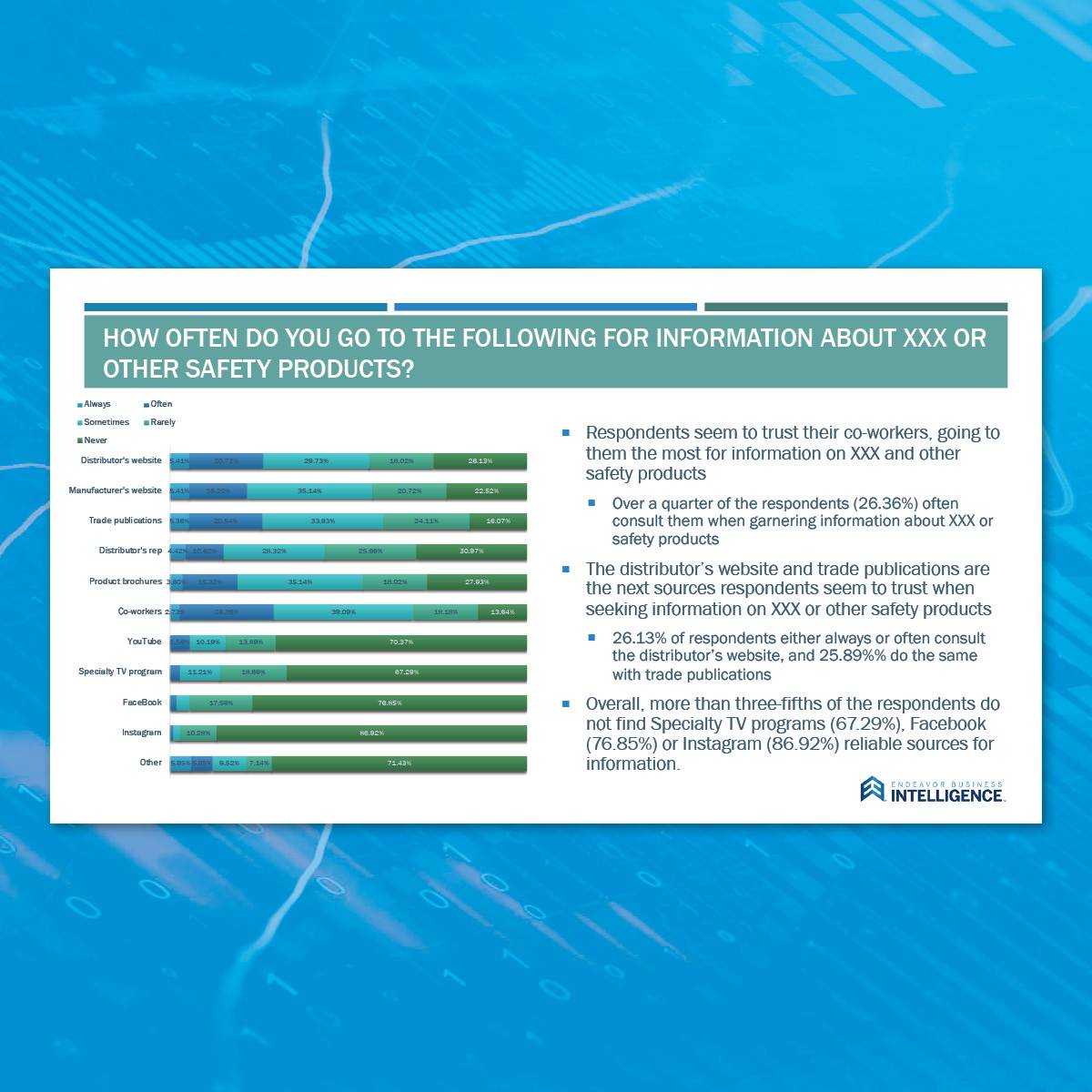 Brand Perception
Develop on Point Messaging
Better understand the market perceptions around your brand, brand awareness & recall, purchase intent, and more. Gain valuable insight into the positioning of your brand among your competitors so you can take your marketing strategy to the next level.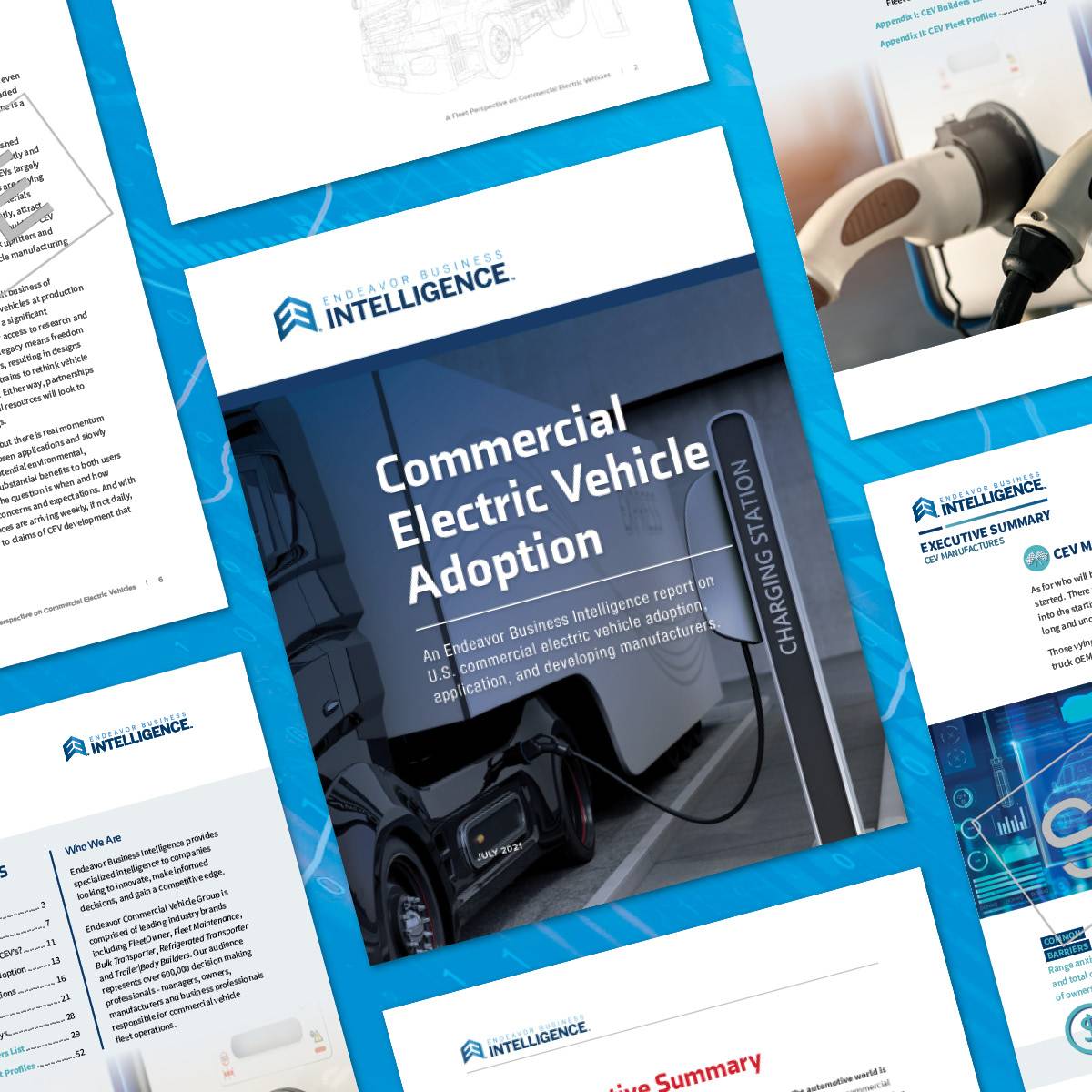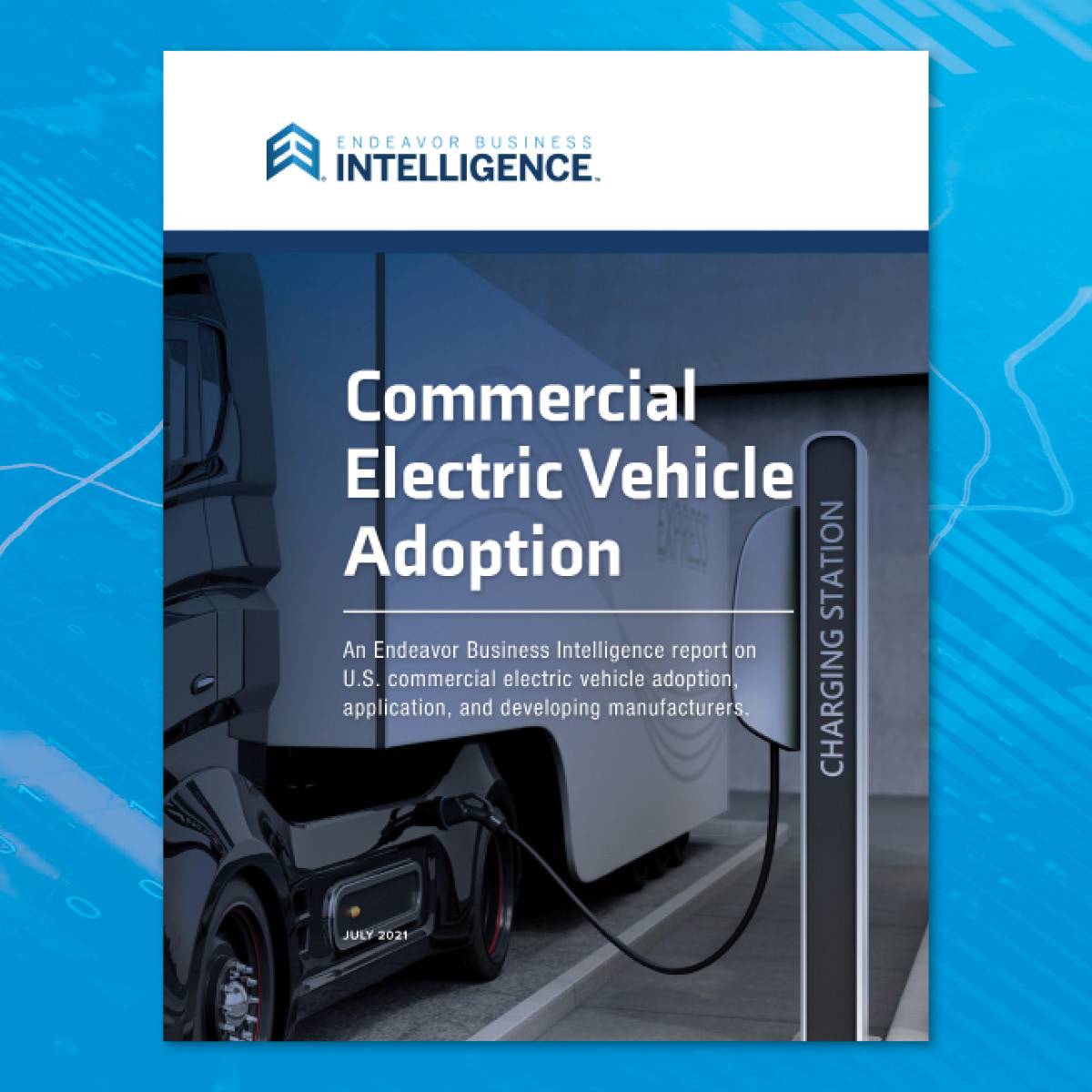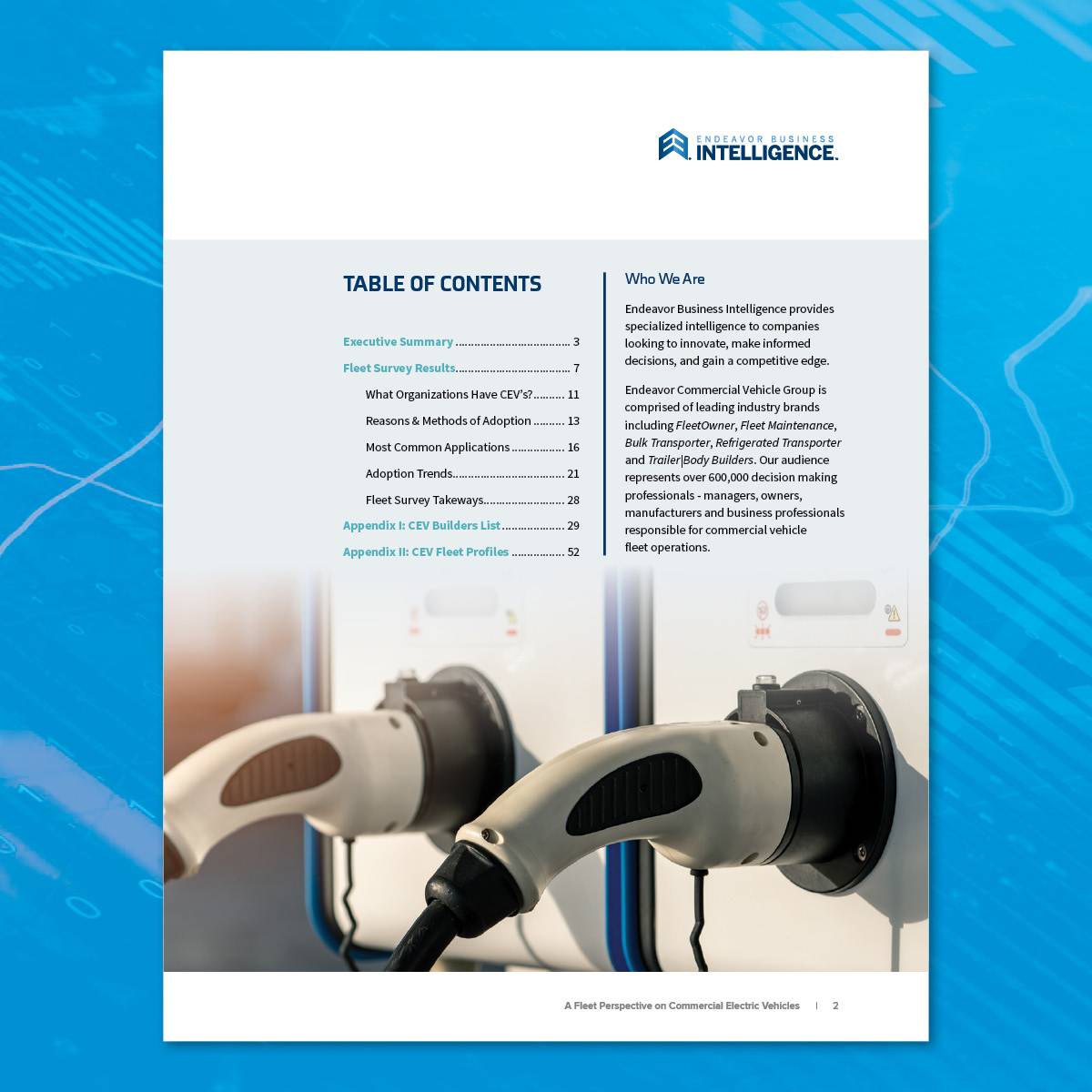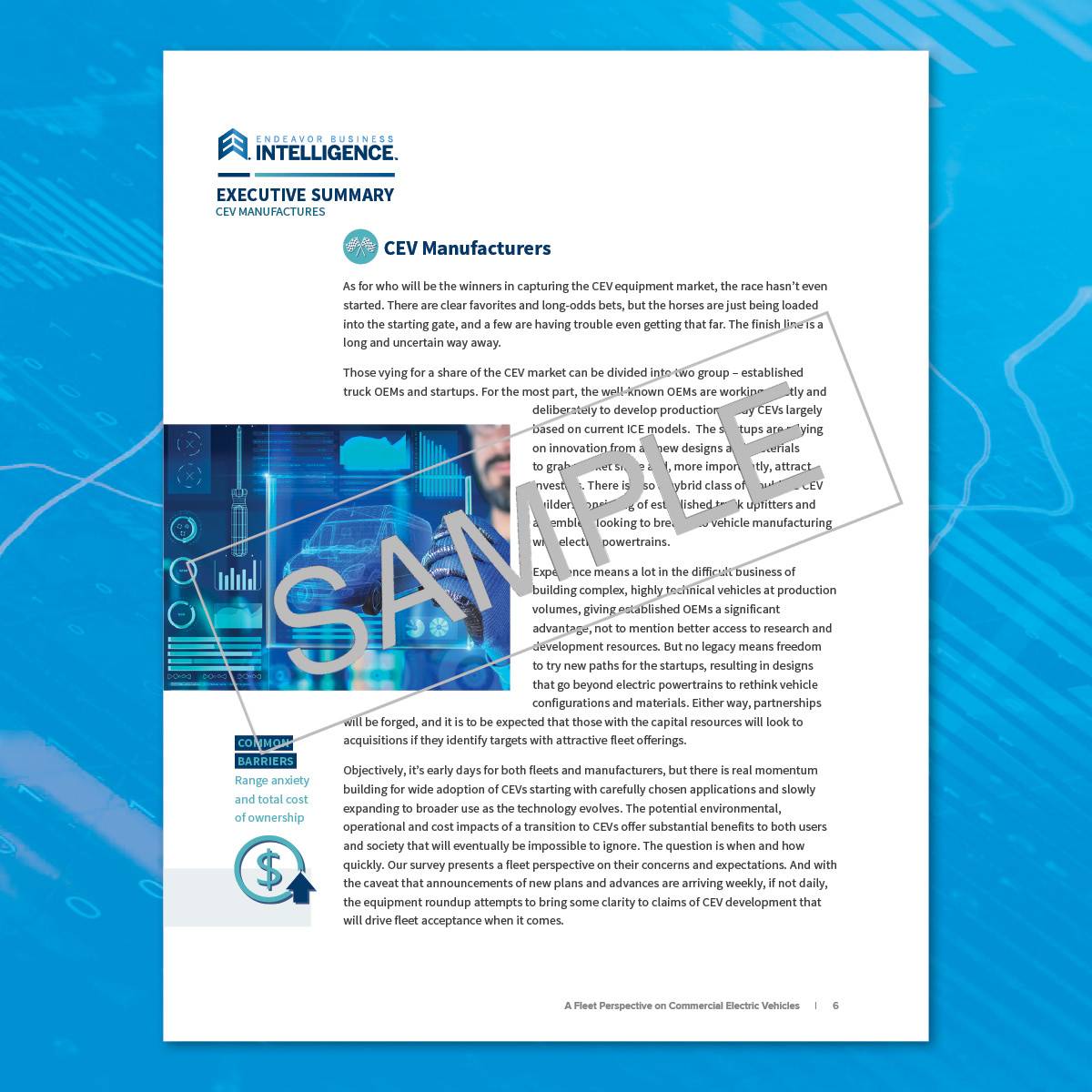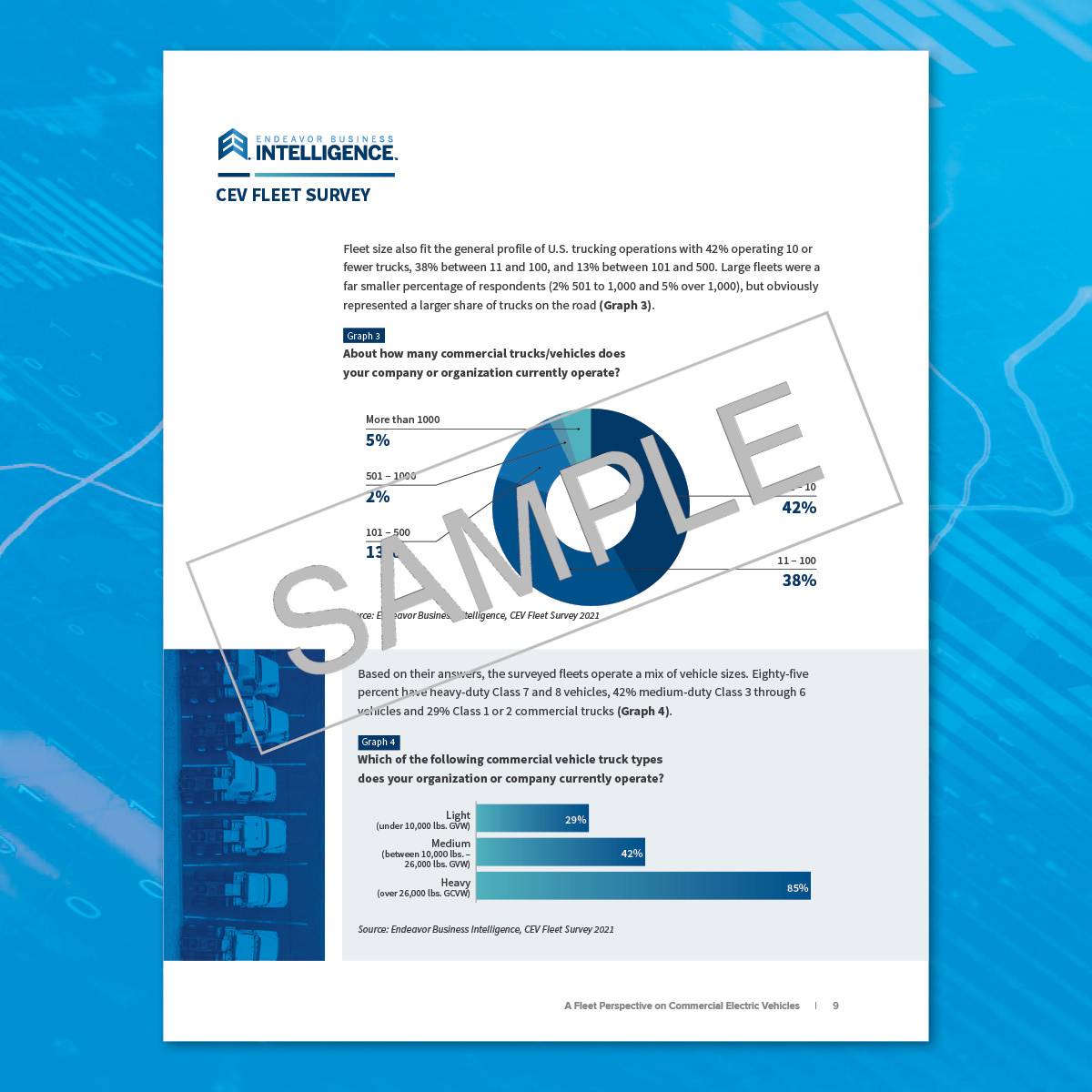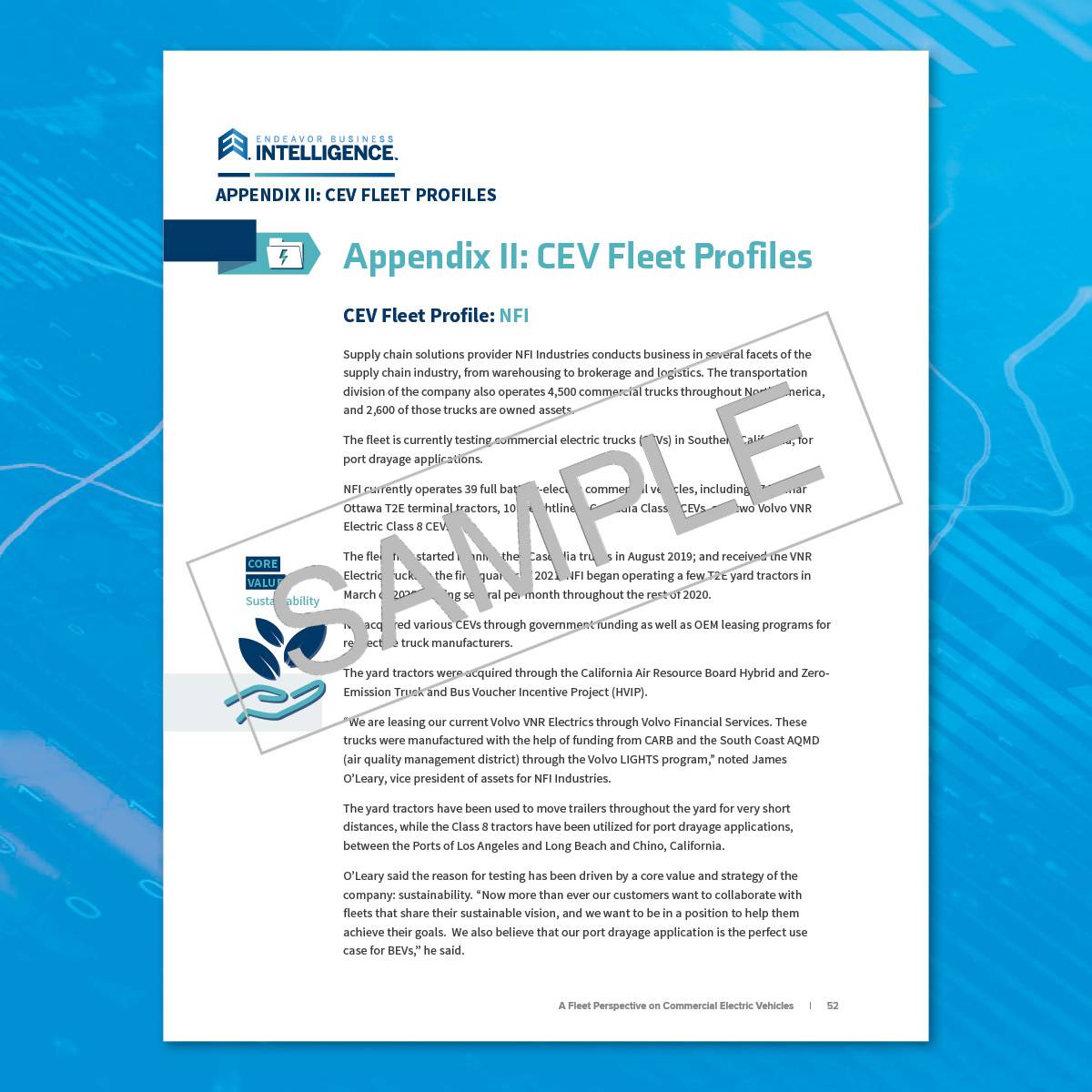 BusinessIntelligenceReport
BusinessIntelligenceReport2
BusinessIntelligenceReport3
BusinessIntelligenceReport4
BusinessIntelligenceReport5
BusinessIntelligenceReport6






Business Intelligence Report
COMMERCIAL VEHICLE MARKET INTELLIGENCE
Commercial Electric Vehicle Adoption: A Fleet Perspective on Commercial Electric Vehicles
An Endeavor Business Intelligence report that examines the adoption rate of commercial electric vehicle in the U.S. Common opinion is that the transportation world is in the midst of an electrical vehicle boom and that CEV's are leading this enthusiastic transformation. However, based on our research of over 270 fleet organizations, the reality is we are just starting to see trends develop and gain a perspective on lessons learned from early adopters.
This comprehensive 58 page report delivers valuable insights for manufacturers, suppliers, builders and investors through analysis of proprietary research on fleet types investing in CEVs, reasons and methods for adoption, applications and perceived challenges.
The report also offers overviews of the top 25 CEV Builders, their progress and current product portfolio, as well as Fleet Usage Profiles for two organizations that are leading the way in CEV adoption.
Learn more about this report that is available for purchase.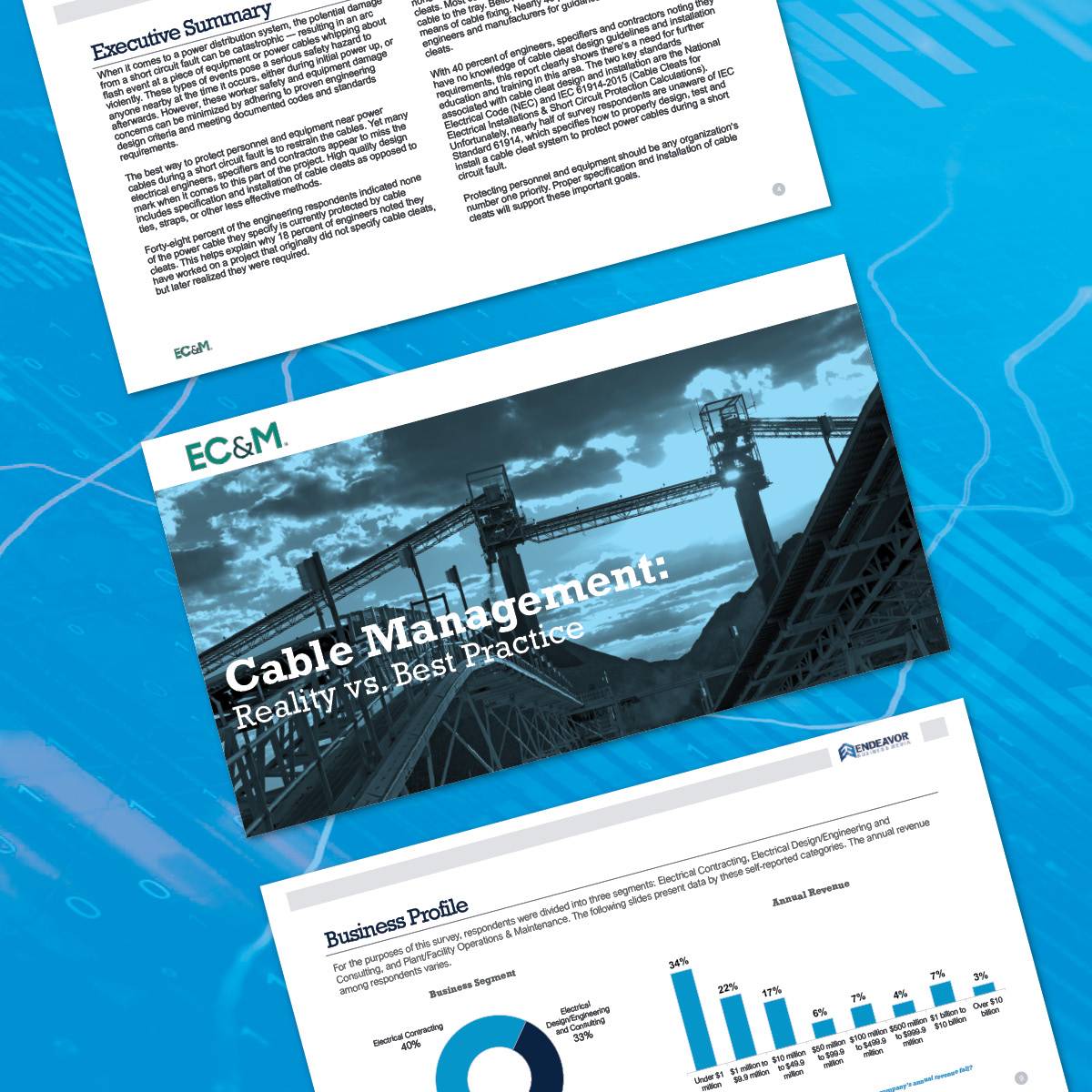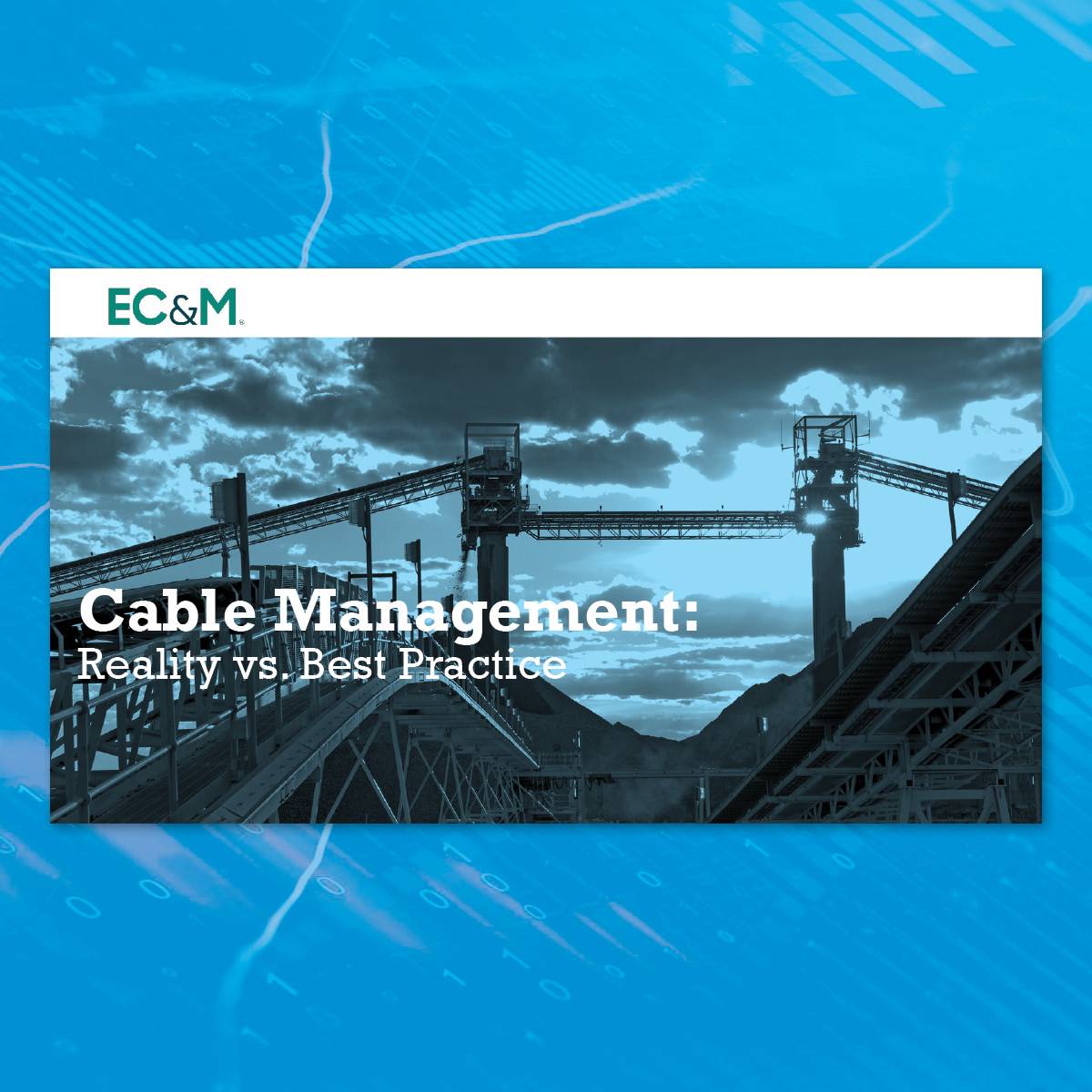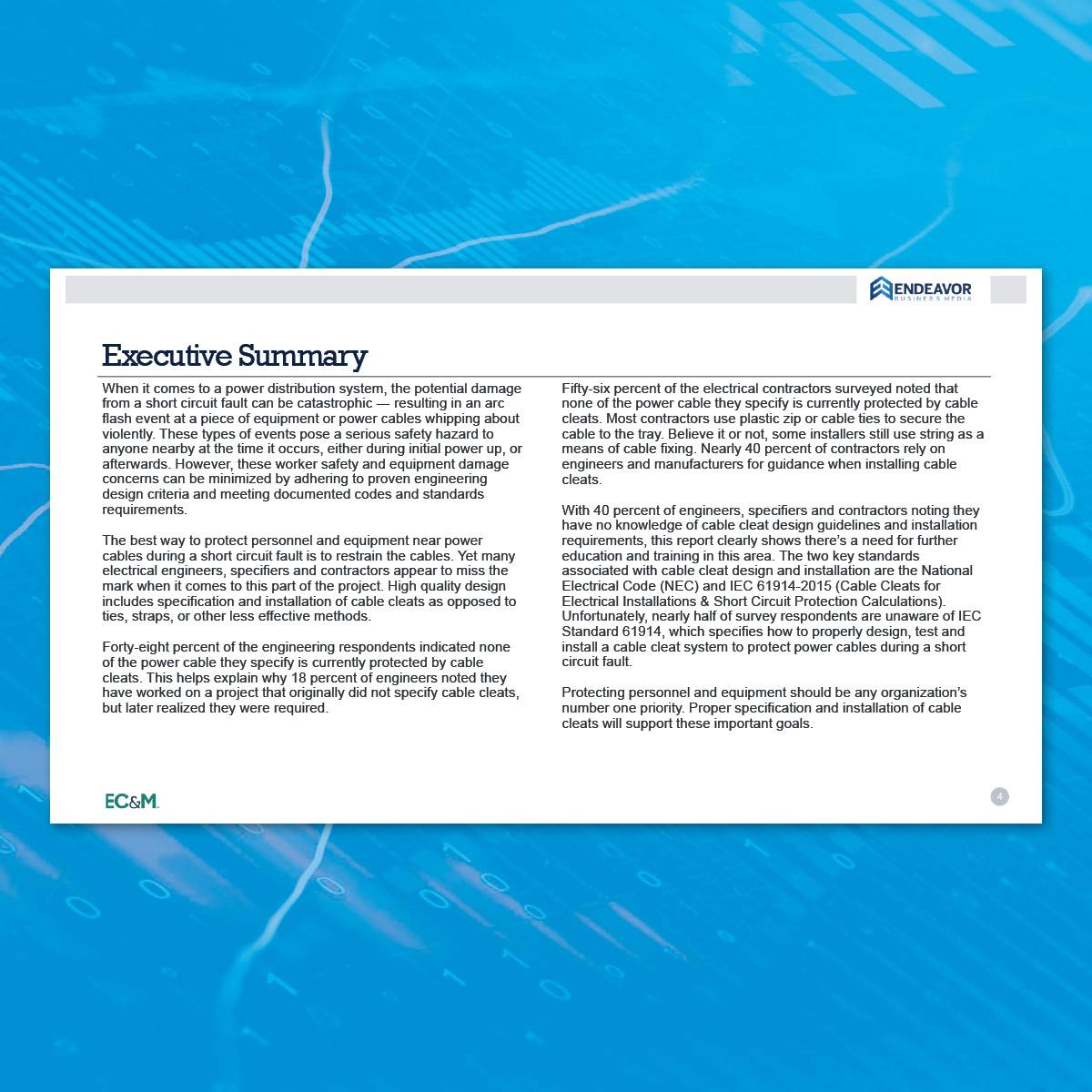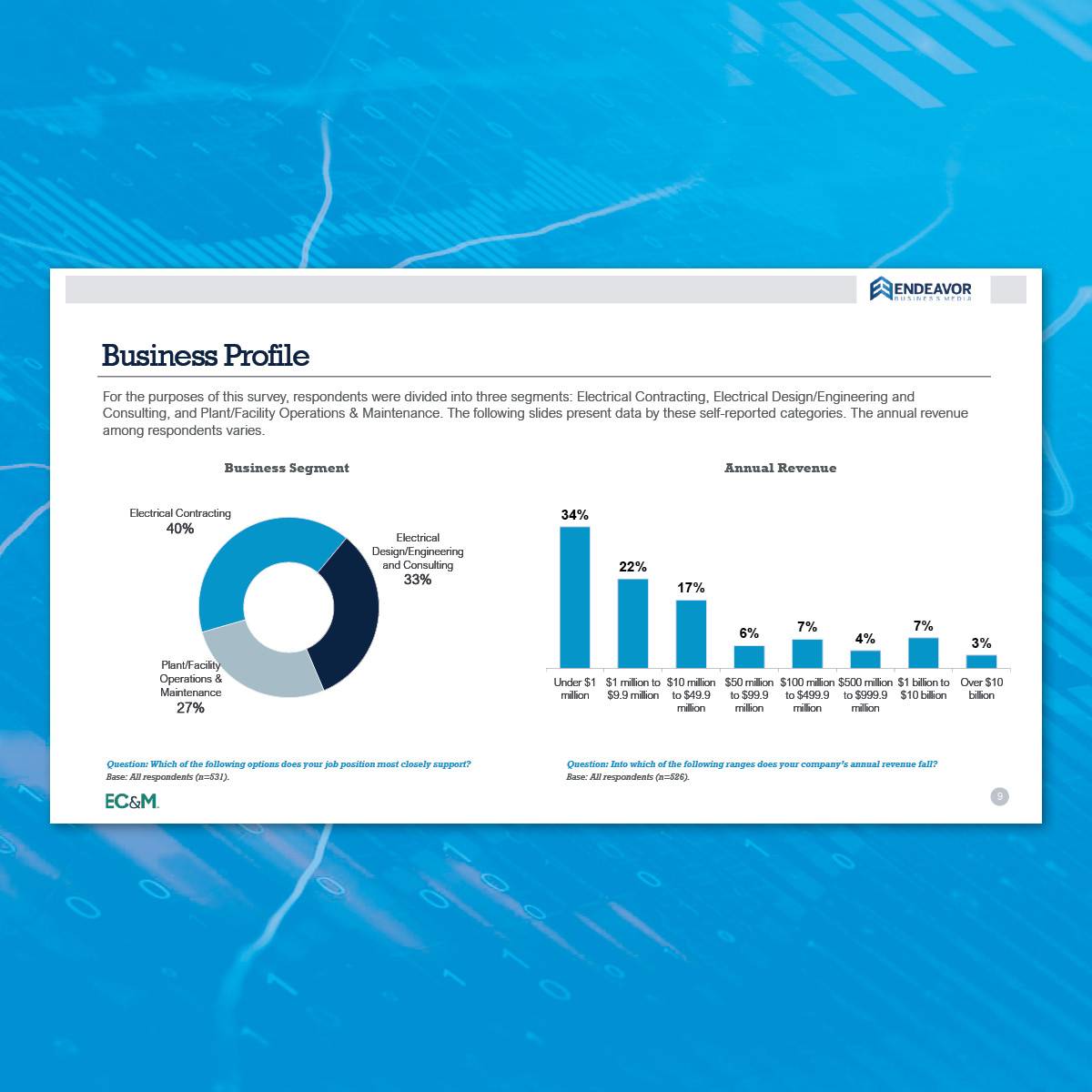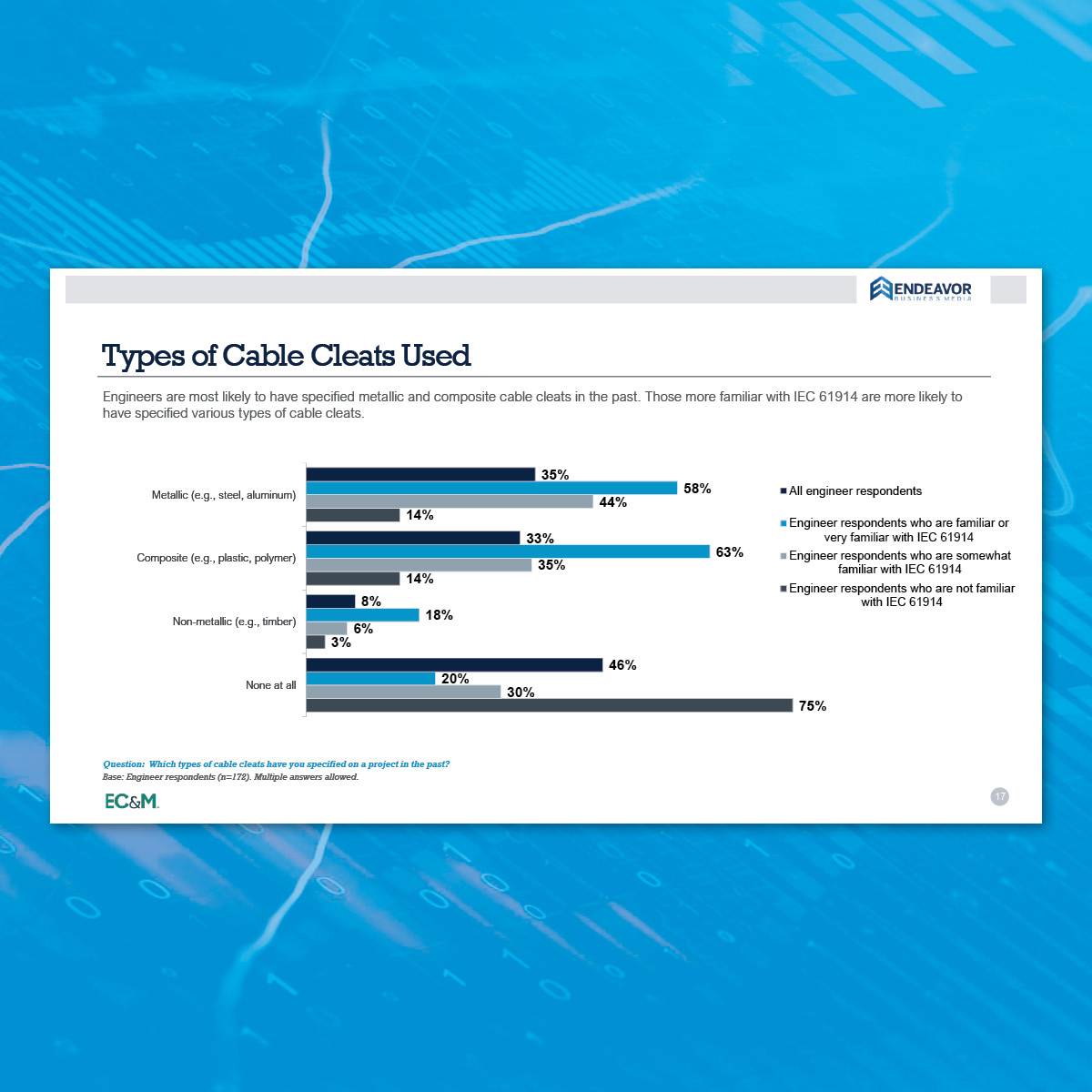 Industry Insights
market & Trend intelligence
Provide target audiences with research-backed data on trends and challenges within in a specific market.  Measure top pain points, organizational impacts, and future outlooks on a specific topic. Results are presented in a report that provides readers with a clear understanding of the topic, and helps them benchmark their position on the topic relative to their peers.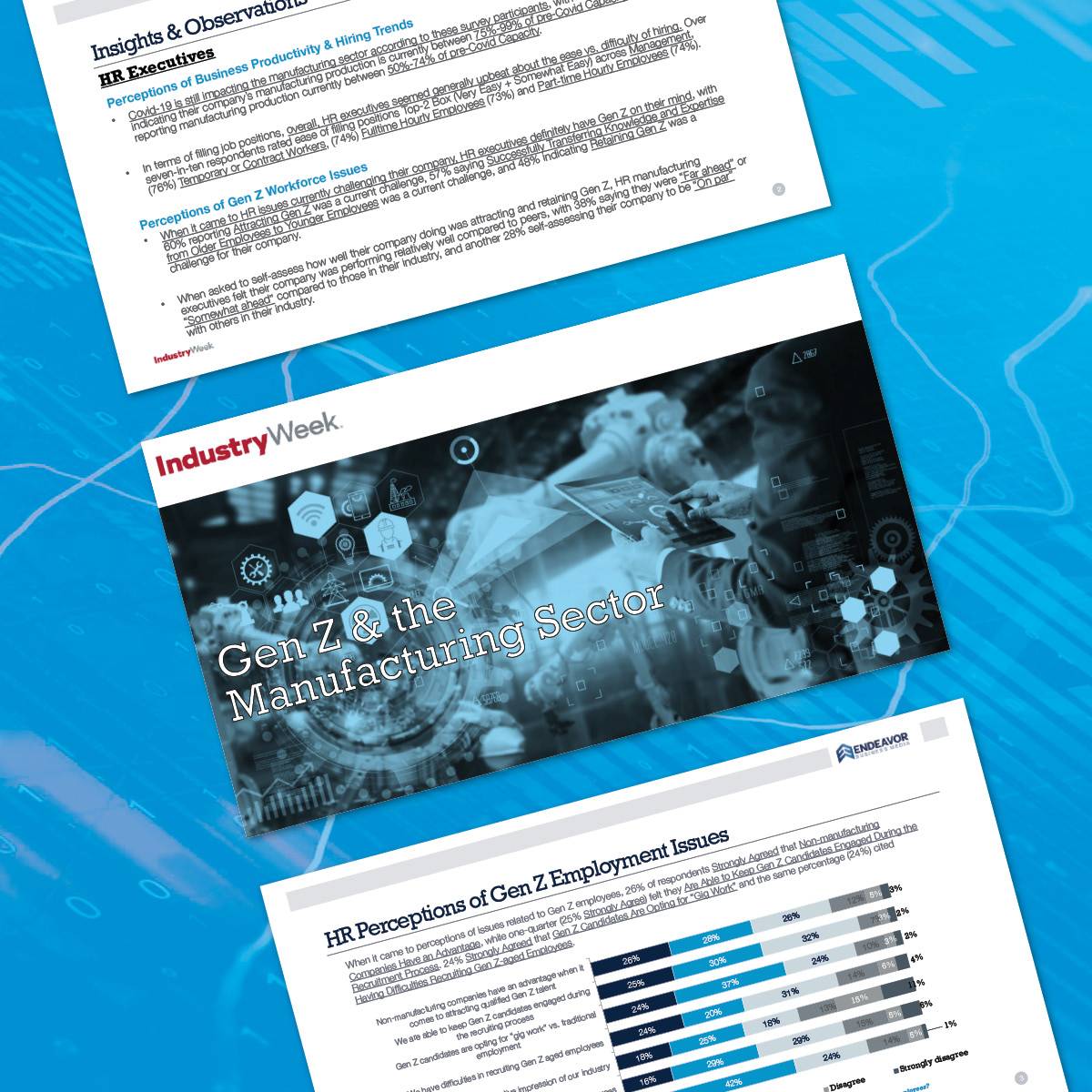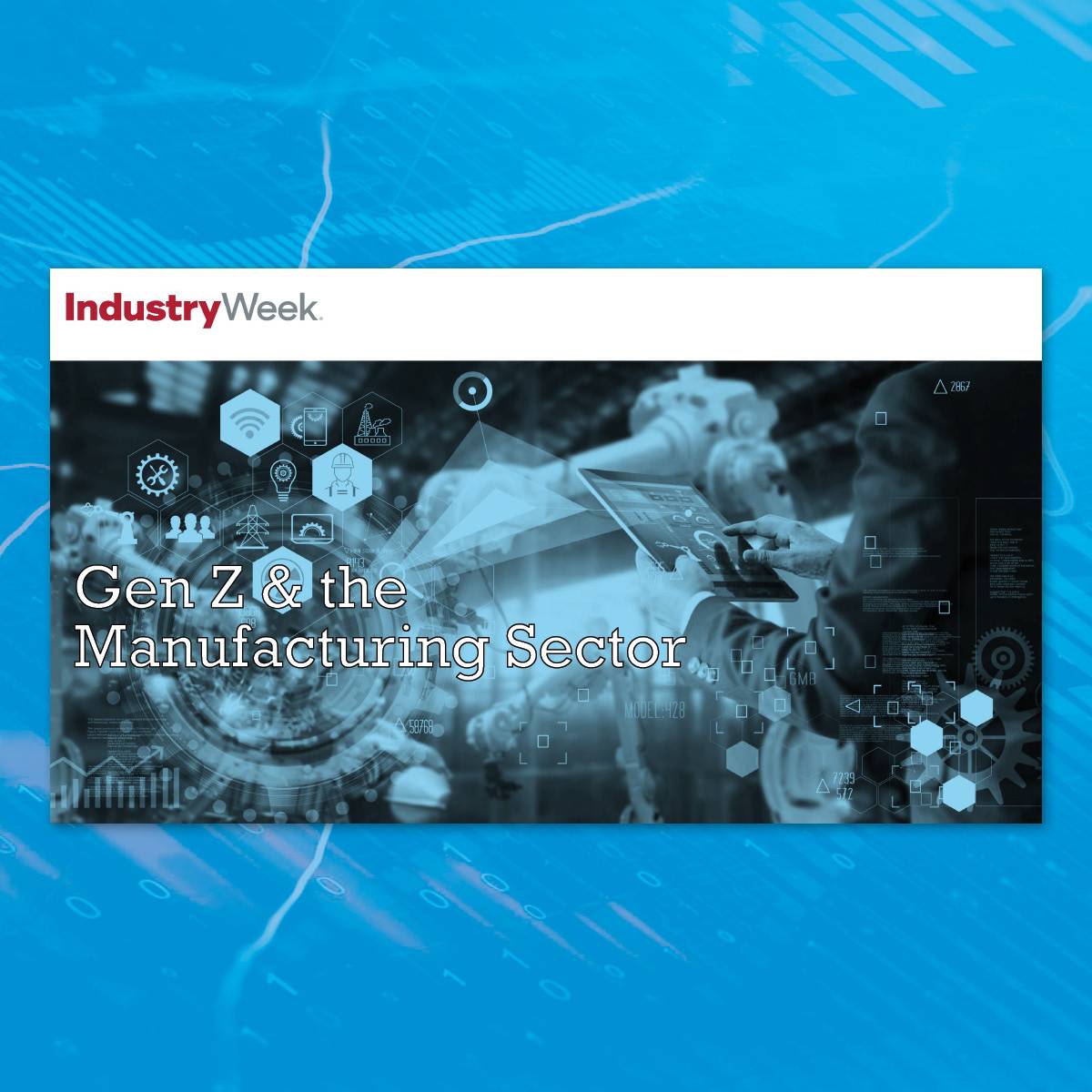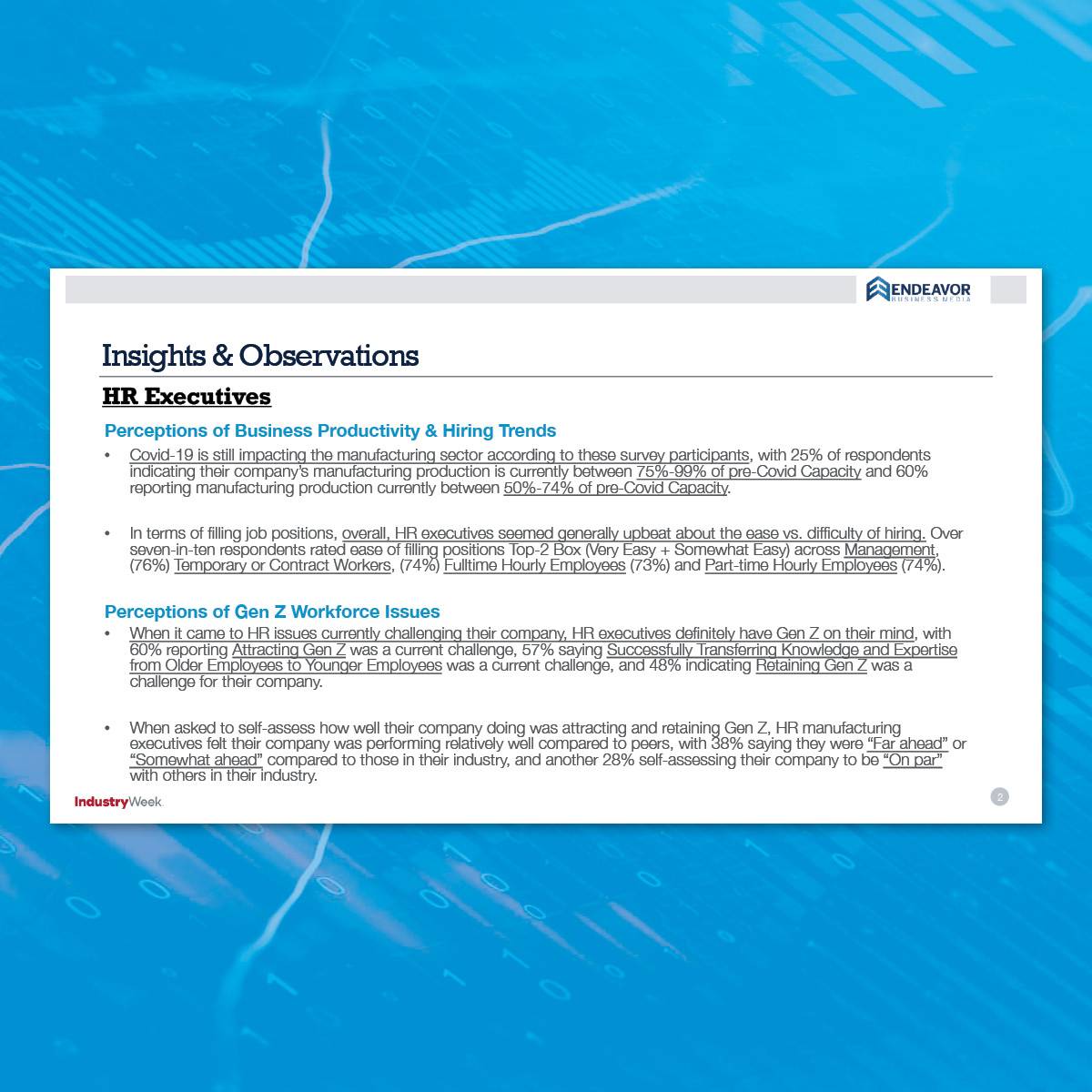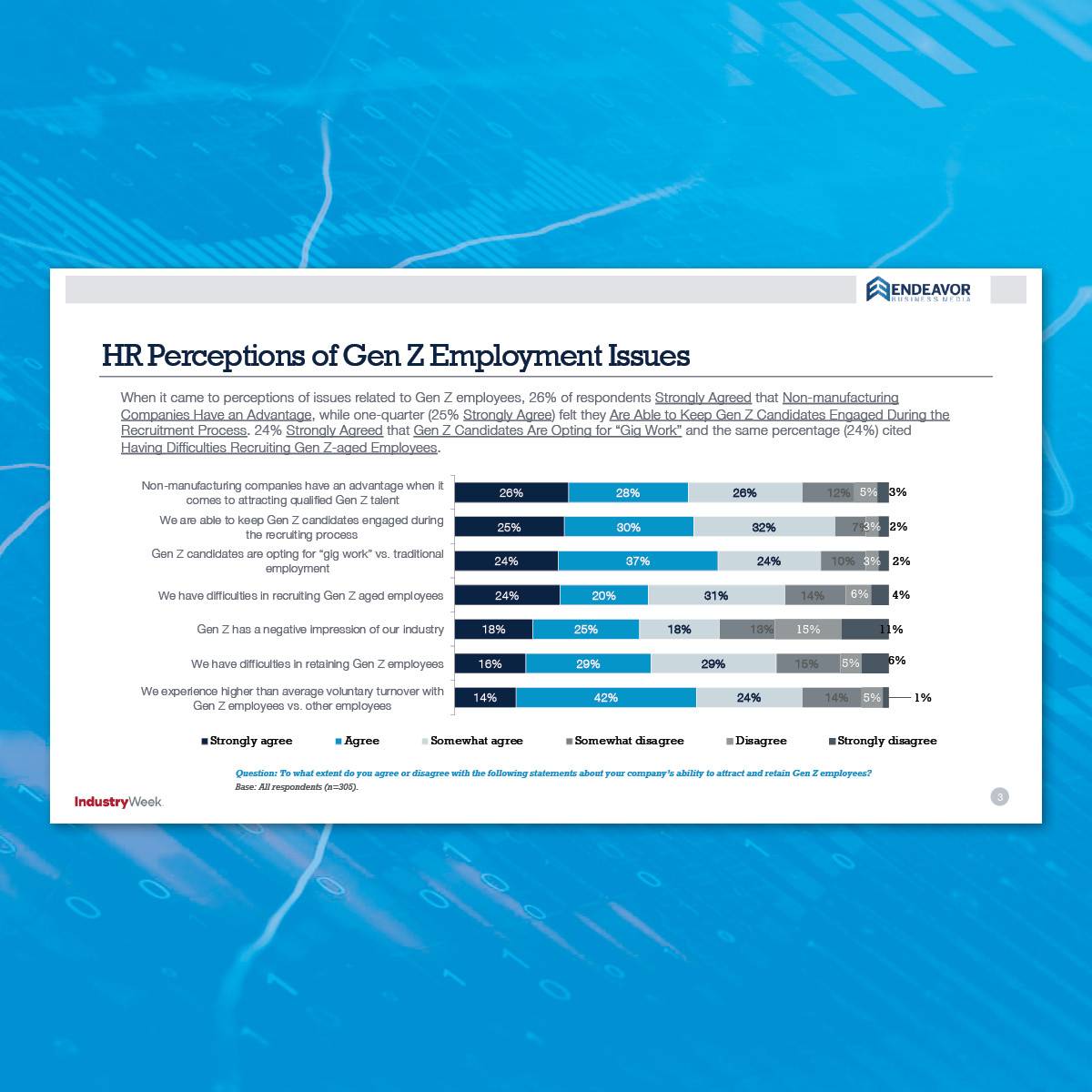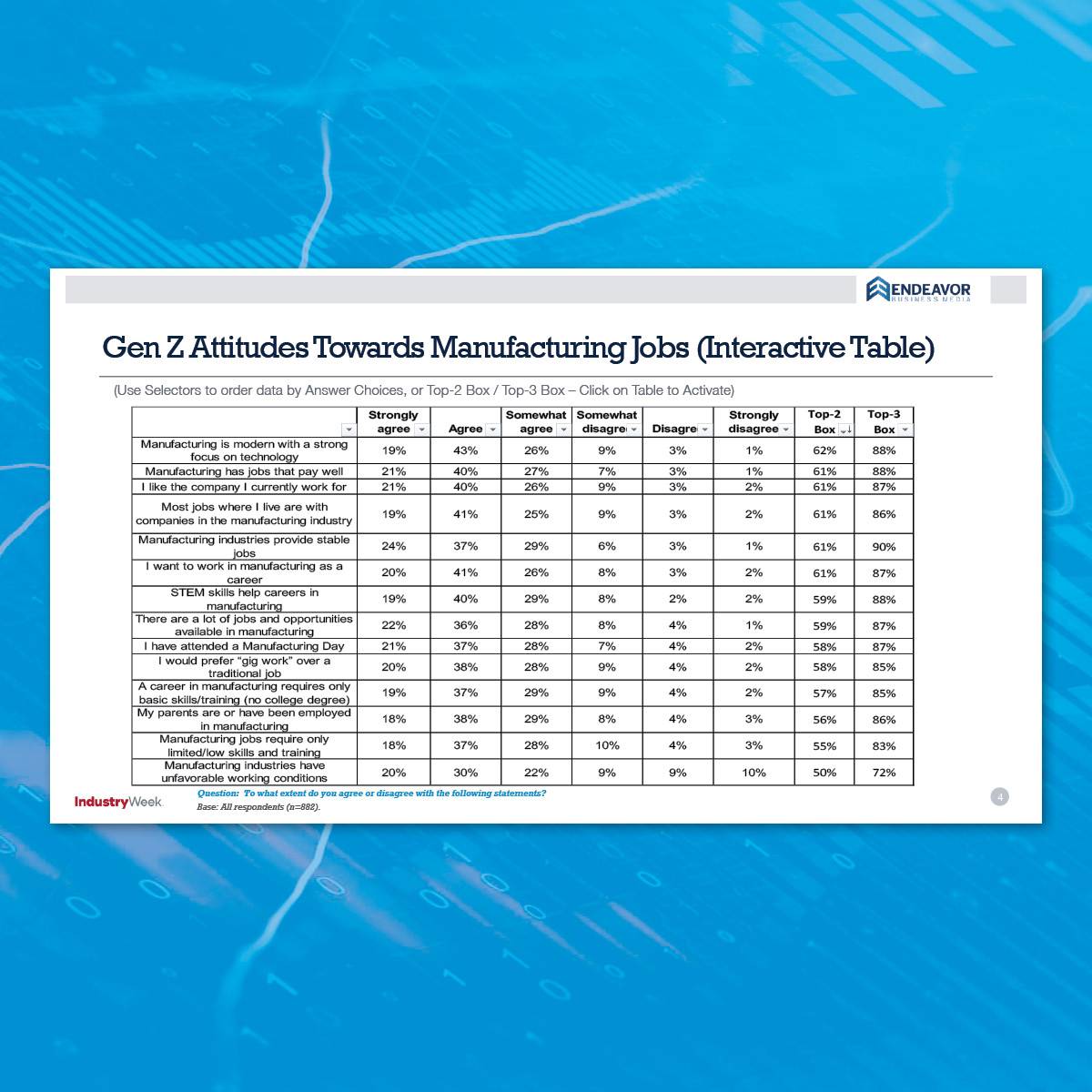 Persona Research
Manufacturing Workdforce - Gen Z and Human Resources
Deep understanding of your buyer persona(s) is critical to driving content creation, product development, and on point messaging for your marketing message.  Collected through survey data and in-depth interviews we identified two separate users' needs, experiences, and behaviors around manufacturing job recruitment. 
Connect with our team to discuss your needs.